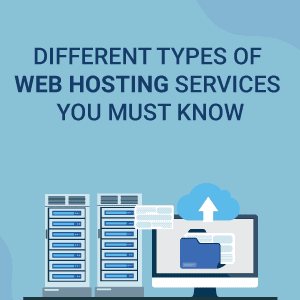 Web hosting solutions cater to small and big website needs. The hosting provider you choose has an impact on the success of the website. People often prefer hosting services based on popularity and goodwill. However, that is not the correct way to choose a service.
The correct way is to choose a hosting solution based on your website needs.
For a start-up or a small website – choosing a Dedicated server is of no use. A Dedicated server would be a perfect choice for websites looking for expansion and scaling.
Don't rush the process of buying a domain and hosting. First, know about the different web hosting types. Once you figure out the web hosting features and advantages, it will be easier to make the right choice.
Read more: Difference Between Domain Name and Web Hosting
What are the different types of web hosting services available?
Shared hosting, Cloud hosting, VPS hosting, Managed WordPress hosting, Reseller hosting, and Dedicated hosting are a few web hosting services offered by top hosting providers in India. Picking the best web hosting services for your website is important to improve its performance and functionality. The right hosting ensures you can easily access varied features that are required to run your website. All website data is stored on a specific server and accessed through a host. It can include different elements like text, videos, and images. Since all sites are different with varying needs, you need to know about types of web hosting to choose the right one.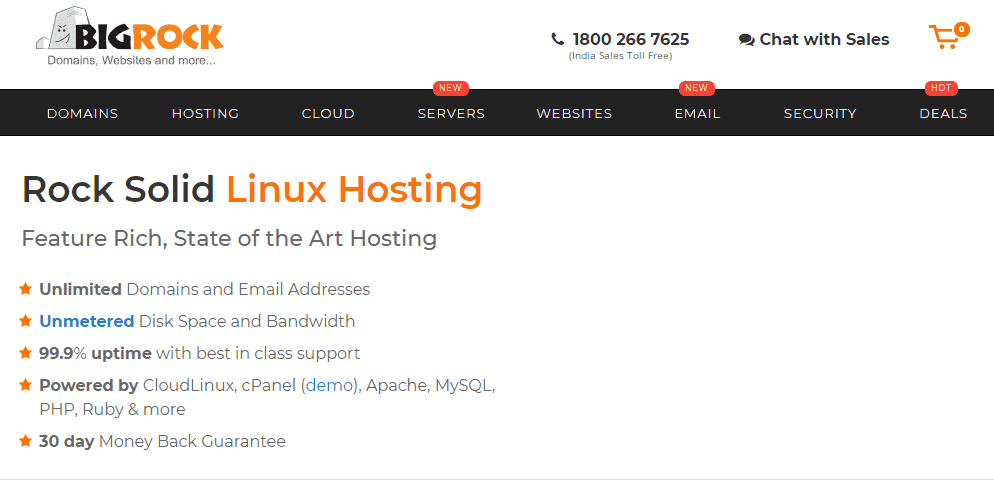 Perfect for start-ups and small companies, Shared hosting is an entry-level hosting solution. This hosting lets you share resources with other websites on a single server. By splitting the resources, the cost reduces. You can choose Shared hosting servers from the different plans available. It is a viable option for saving money and a good choice for a website with not more than 10,000 visitors.
Advantages of Shared Hosting
It is a cost-effective hosting solution for small business websites.
The set-up is easy, and once you choose a plan - your site will go live in no time.
You don't need any technical expertise to buy a Shared hosting plan.
Disadvantages of Shared Hosting
Resources need to be shared with other websites, which may affect the website speed.
For any performance issue, you need to contact the customer support team.
Shared hosting has slow loading time and uptime, which can pose a problem.
You won't be able to scale the website without added resources.
Further reading: Difference Between Shared Hosting and Dedicated Hosting

2. Virtual Private Server

One step above Shared hosting, Virtual Private Server is a single physical server, ideal for medium-sized businesses that can't afford downtime. When a website outgrows a Shared hosting plan, the website owners shift to Virtual Private Servers. Your website will share a server with other sites, but the number of websites is low, and you get dedicated resources.
In a Virtual Private Server, the server is split into multiple virtual servers, and a website can customise it according to their need. VPS hosting ensures that a higher influx of traffic does not affect your website functions.
For custom configurations to the server – you can get optional root access with VPS. It allocates a separate RAM and CPU for a website. Websites with large files like – videos and images – should consider VPS.
Buy VPS web hosting now with these BigRock hosting coupons.
Advantages of Virtual Private Server
It guarantees a higher uptime and faster loading website speed.
It is more cost-effective compared to Dedicated Server hosting.
VPS offers dedicated server resources and helps you make customized configurations based on your website needs.
Disadvantages of Virtual Private Server
You'll need to share the server with other sites, which is a drawback.
It is not easy to set up and need technical expertise.
It has limitations in terms of what you can control on the website.
Further reading: Cloud Hosting vs VPS Hosting

A Dedicated Server is a hosting solution that comes with its own server. It offers complete flexibility and reliability but at a higher cost. It offers exceptional performance for high traffic and E-com websites.
It lets you handle up to thirty times an increase in traffic. Websites hosted on a Dedicated Server have complete control over the server settings. It helps choose configurations, software, and settings.
With Dedicated Server Hosting, you can expect faster loading speed and a higher uptime guarantee. It offers one physical server that lets you take full root access to a website.
Most hosting companies control client websites through a Dedicated Server. Dedicated Server hosting is ideal for Enterprise-level websites - that means more than 10,000 monthly visits.
You can purchase dedicated web hosting at a discount with these BigRock coupons.
Advantages of Dedicated Web Server
It does not share resources with other websites. You can expect complete control.
It offers higher security features compared to other hosting plans.
With a faster loading time, your website won't have loading issues.
Expect optimal performance with Dedicated server hosting.
Disadvantages of Dedicated Web Server
It is expensive and not suitable for all websites.
You require technical expertise to understand the basic setup process.
It gives you complete control, so there are issues if you are not fully knowledgeable about servers.
Further reading: Web Server and Its Different Types
4. Cloud Hosting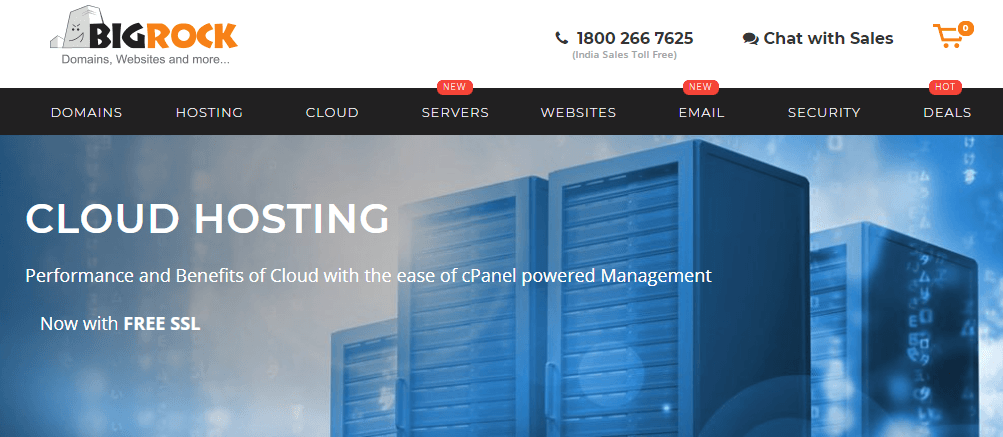 A hybrid version of VPS hosting, Cloud hosting is the most preferred choice for websites today. It comes with multiple remote servers, and each server can scale. If one server is down, the other will take responsibility for the network and pick the slack.
Cloud hosting provides the best uptime rate and optimal performance. The hosting solution offers scalability and immediacy. You will be able to determine the resources and space you need in real-time. It lets you access servers and use them depending on your website needs. It accommodates the spikes in website traffic, so your site will not suffer.
Cloud hosting is the best solution for medium and larger websites. If your website expects more than 50,00,00 monthly visits, consider a Cloud Hosting plan.
Read this BigRock review to learn about the Cloud hosting services offered by BigRock.
Advantages of Cloud Hosting
Cloud hosting offers higher security on plans.
You can scale added resources on demand if there is an increase in site traffic.
The downtime is less, so your website is accessible to users all the time.
Disadvantages of Cloud Hosting
The price of Cloud hosting plans is not fixed - it works on a pay-as-you-use model.
If the traffic is more, it may increase the cost.
It offers limited customised features.
Further reading: Cloud vs Shared Hosting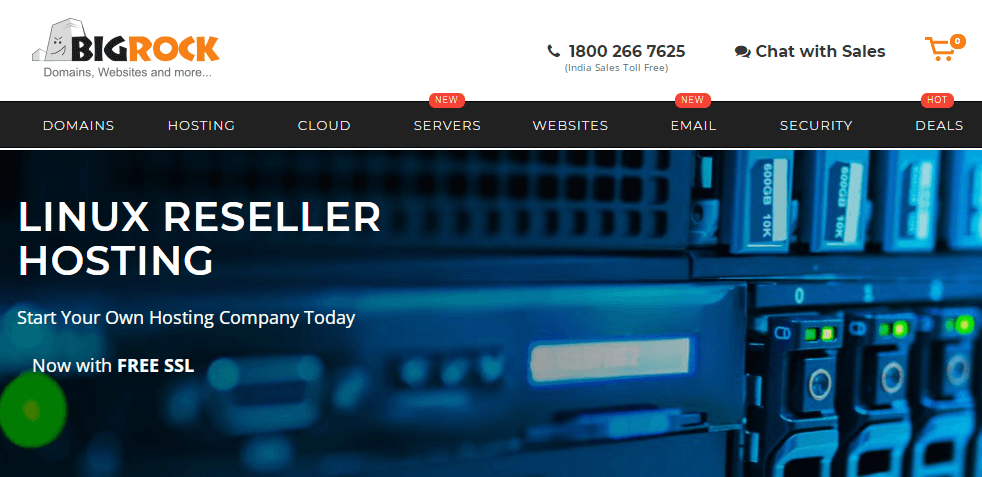 Reseller Hosting is a kind of shared hosting, but the user gets complete control over the server. Most people opt for Reseller hosting as a part of an extra earning opportunity. It shares resources and available bandwidth with other sites on behalf of the service provider.
Reseller hosting offers complete flexibility compared to Shared hosting. It helps people to create and maintain smaller websites. Based on your Reseller hosting plan, you will be able to choose ten to 200 different cPanel accounts. It helps developers and designers offer better hosting solutions to clients.
Advantages of Reseller Hosting
Reseller Hosting plans are cost-effective.
You don't have to worry about the technical expertise of running the website.
It lets you create your web service plans for clients and earn extra income.
It lets you build your own hosting brand in the web space.
Disadvantages of Reseller Hosting
The success depends on the host and features it offers.
If you're migrating, it may affect your business or clients.
For the Reseller business, you will have to deal with different customers and their requirements.
Further reading: Reseller hosting vs VPS hosting
6. Managed WordPress Hosting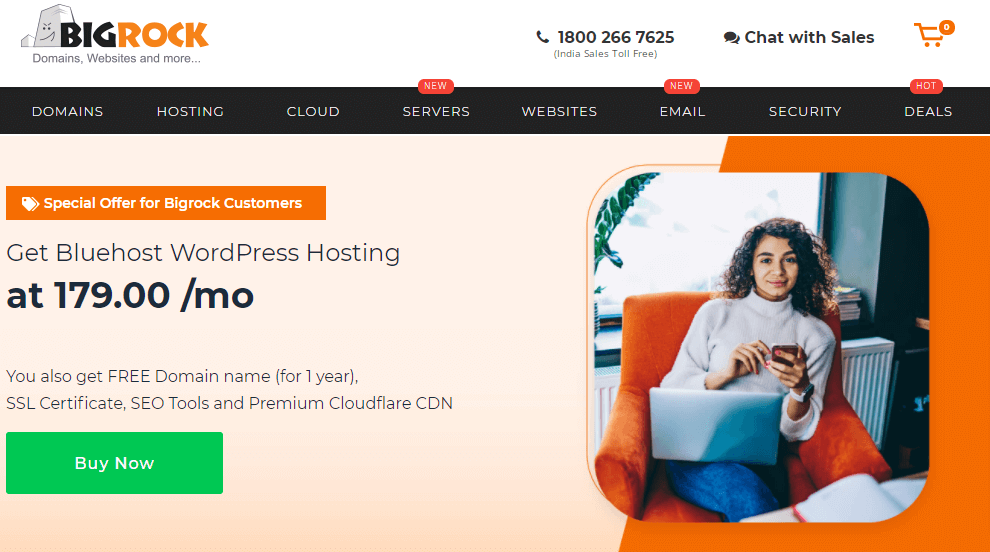 Managed WordPress Hosting solutions work best for WordPress websites. It comes with an easy set-up, control, website back-up, and reliable staging environment. It fine-tunes your website with easy-to-use dashboards, caching, and better security features. The hosting solution is perfect for websites with higher traffic spikes. Updated plugins make sure your website loads faster and give you guaranteed uptime.
Advantages of Managed WordPress Hosting
Managed WordPress hosting offers good speed and improved performance with a one-click staging environment.
With a comprehensive WordPress community and experts - you can solve your website issues in no time.
It offers user-friendly site management features with access to development tools.
It offers automatic backups and added tools to optimise your site. You can also install WordPress with one click.
Disadvantages of Managed WordPress Hosting
It is pricey compared to other hosting plans.
There may be low flexibility with plugins.
The plans do not offer email or free domains.
There is no .htccaess compatibility - the features work only for WordPress websites.
Further reading: Shared vs WordPress Hosting
What works right for you is the best plan for your business. It also depends on the features you need for your website and the resources required for scaling. For smaller websites - Shared hosting is the best, and for larger ones - Cloud Hosting solutions.
Apart from web hosting, to purchase a domain for your website, use these BigRock domain coupons.