Moving on from the hosts of comparison articles that we have written lately i.e. BigRock vs GoDaddy, BigRock vs Bluehost and BigRock vs HostGator. Today, we'll shift our focus to WordPress hosting. In this post, we'll discuss the difference between Shared vs WordPress hosting, so as to make your task of choosing the best WordPress hosting for your business easier.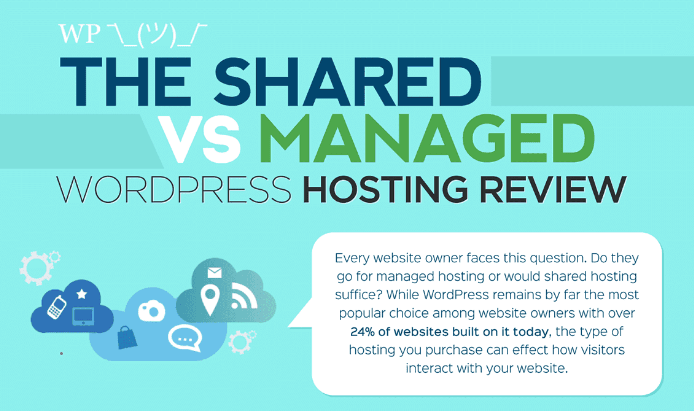 Hosting is a service offered by web hosting companies that allow an individual or business owners to get their online business running. A key component for a successful website, choosing the best web hosting set-up for your WordPress website can help improve your SEO and will eventually increase your website's traffic and conversion rate.
Web hosting comes in two different forms: Shared and Managed and both has its own strength and weakness. Now while one may outperform the other in different situations, what you need to do is select a web host that suits your need. If you are planning on purchasing a hosting account with BigRock, then check out this BigRock review for more information on its services, features & more.
To give you an overview of our topic, let's talk about Shared hosting first.
Shared Hosting is by far the most popular type of hosting used by WordPress users. By having different sites on the same server, this option provides you web hosting service at an affordable price. It also comes with a hard-to-say-no offer with perks like unlimited disk space, unlimited bandwidth, and mostly unlimited everything. You can buy Shared hosting on BigRock at a discounted price through the use of these BigRock Coupons.
But just as I mentioned earlier, it also has its own drawbacks like slower server response time and some of the companies that offer this option tend to oversell, even if their servers are already full.
Managed Hosting, on the other hand, offers dedicated servers and related hardware to a single customer. Though it is an expensive option than shared web hosting, it comes with feature-rich packages built especially for WordPress users.
It has advantages like ultra-fast website speed, enhanced security protocols, automated backup & updates to better uptime and customer support. Managed hosting will certainly be able to give your WordPress website the much-needed boost and 1 click WordPress Install Service to match your business demand.
Now, based on the above-stated benefits, you'd think that managed hosting sounds perfectly great. But, it also has downsides such as higher cost, plug-in restrictions, and inflexible infrastructure.
Further, to help you decide which of these two web hosting option is best suited for your business here is an infographic that has listed down the pros and cons of each type.
We hope that after checking out this Shared vs Managed WordPress hosting infographic, you'll be able to make the right decision on which of these two can help you unleash the full potential of your WordPress website.
Shared vs WordPress hosting infographic 2019

#Conclusion
Once you make your decision on which is better Shared or WordPress hosting based on your needs, you can look at the various hosting options available. The top choice for affordable hosting in both categories is BigRock. However, if you still want to compare different hosting plans, before making a purchase, then here are a few hosting reviews that you can check out.