I am sure you'll agree with me when I say:
Any Business or Service cannot survive without a Good Website..
Or is it?
Well, there is ONE Problem here. Finding a 'Good Hosting Company" is a daunting task.
Choosing the Best Web Hosting for your DREAM project can be a little confusing as all the web hosting companies claim to give you the ultimate speed/resources, which is not true.
This article is to give you an overview of Bigrock vs Godaddy Web Hosting.
First, let us share a brief history about these two hosting companies.
#1. Brief history of Bigrock & GoDaddy
Bigrock was established in 1998 under the flagship of Directi. It is widely known for its groundbreaking mass-market web products it developed to cater for the requirement of millions of customers worldwide especially users from India and US. Located in India, Bigrock Offers multiple web-hosting services to individuals, small businesses, and professionals worldwide. There is also domain registration, e-commerce solutions, business-class email services and digital certificates. (For more information, check out Bigrock Hosting Reviews).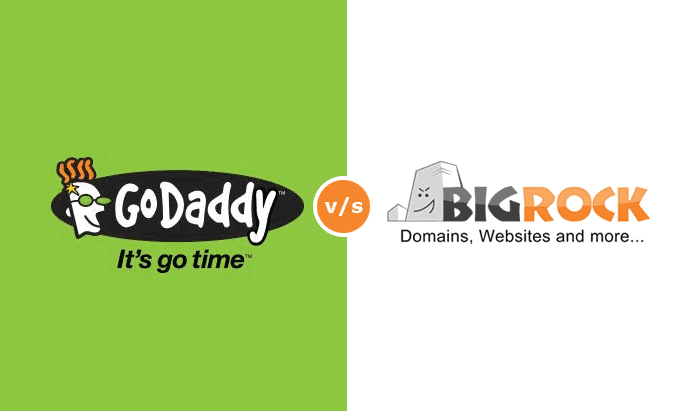 Bigrock claims to have over 6 million domains running successfully online under its name.
Godaddy was established 1997 by Bob Parsons. It is a publicly owned internet domain registrar and website hosting service provider. It provides the requests of over 14 million customers with an employee strength of over 4,000 people. As at January 2016, Godaddy is the world's largest ICANN qualified registrar with over 61 million domain names successfully registered under its name. Besides the domain business, it provides web-hosting services to millions of users, a majority of which is individuals and small businesses.
Now, mentioned-below is the detailed comparison between Bigrock vs Godaddy hosting.
#2. Bigrock & GoDaddy Server Uptime
The server uptime of a website is a major factor considered during web hosting. A good server uptime means that your website is online with almost no server failure from the web host. Since most web host backs up their customer's website incrementally at predefined intervals, the data used must be able to handle that size of workload.
Godaddy server uptime is very reliable and promises to provide users with a 99.9% guaranteed uptime. The Godaddy data centers use redundant UPS power and N+1 air conditioning, 24/7 onsite monitoring with fire protection. The data centers are located in the US, Europe and Asia with the size of more than 70,000 square feet.
Bigrock server uptime is also reliable and promises 99.9% of guaranteed uptime to their customers. The company uses Juniper switches and router, 24/7 onsite monitoring, advanced cooling and fire protection systems. The data center is located in Texas with 250,000 square feet size.
Both Godaddy and Bigrock have a good server uptime.
#3. Security Features Offered
Here is the breakdown of the security features both web host offers.
GoDaddy offers many web securities for its customers in protecting their information against hackers and viruses.

SSL Certification – Godaddy SSL can secure one website and all its subdomains. They offer different plans in which you can choose the best one that suits your needs.
Code and Driver Signing Certification – This is a type of SSL certificate that is used to sign software installation setups.
Sitelock Malware Scanner – This security feature automatically scans your website and helps to keep hackers and intruders at bay. It scans up to 500 sub pages of your website to eliminate malware and other network susceptibilities.
Bigrock offers its own classy secured server with health checkup and regular server monitoring. The server features the latest Antivirus, Malware and Rootkit scanning tools that help keep hackers at bay on your websites and server.
SSL Certification – Bigrock offers SSL services that include the following:
SiteLock Website Scanning – This security feature helps to protect your website from SQL Injection attacks, bots, CSRF attempts and XSS exploits.
CodeGuard Cloud Backup – CodeGuard is a highly intuitive program that takes automatic backups and works behind the screen.
Both Godaddy and Bigrock offers great security features.
#4. Website Builder / DIY
Both web host consists of a custom website builder with lots of features.
Bigrock features a free custom website builder that is included in every hosting plan, which gives it an edge in the hosting business. This helps users that do not have much programming experience to design their website with ease and convenience. Here are some of the features of the Bigrock website builder.

Easy drag and drop visual editor to help customize websites.
Well-integrated search engine optimized pages.
Blog and social media integration.
Access to over 175 themes and 85,000 images.
Godaddy, on the other hand, features a website builder that is not included in any of their hosting plans. However, there is a free trial to use it. It is a simple to use website builder that anyone can use as it is WYSIWYG (What You See Is What You Get). Here are some of the features of the Godaddy website builder.

Visual friendly layout with a single toolbar.
Over 300 professionally looking templates to choose from with specific industry categories.
Backup and restore function support.
Each of the website builders has their pros and cons, however on the debate between Bigrock vs Godaddy, Bigrock website builder triumphs has it is free.
Bigrock wins in the website builder.
#5. Control Panel Interface
Godaddy uses its own designed custom control panel. This control panel provides script installers like most conventional cPanels but the interface is different. The user interface might not be a problem for regular users but there are complaints by most first timers about the non-easiness of the interface.
Bigrock offers its users a fully equipped cPanel for Linux hosting or Plesk (Demo) control for Windows shared hosting. The interface is user-friendly and convenient to use when managing websites and other applications in a centralized manner even for first timers. The control panel comes with an intuitive interface and identifiable icons. The interface of Bigrock is more user-friendly.
Bigrock wins in user interface
Godaddy is known to NOT give its customers a money back guarantee on any of its web hosting services.
Bigrock provides a 30 days money back guarantee for all its services.
The money back guarantees offered by Bigrock is reasonable if compared with their hosting services.
Here Bigrock is the WINNER!
#7. Customer Support Services
Godaddy helps its customers to handle all technical problems that might occur throughout the hosting process. It offers customer support like phone calls and email support. They have good telephone support representatives with in-depth knowledge to assist in any way. The lack of online chat makes it a bit inconvenient for non-English speakers that need help but cannot communicate through a phone call with support staffs effectively. Most users favour the live chat because of its convenience and immediate response.
Bigrock has several merits in terms of customer support; they provide most commonly used support channels like live chat, phone, ticket, email, etc. They have qualified staff that works only to give the customers the best support related to their hosting services. However, many webmasters say it takes them an average of more than 30 minutes to get a response from them and solutions too.
#8. Server Speed and Response Time
Be it Bigrock or Godaddy, speed is a determining factor when choosing a web host. These two web host are tested using Pingdom to check for the average speed of response on websites each of them hosts.
Godaddy hosted websites consumed an average of 784ms for server responses when responding to requests from web browsers.
Bigrock, on the other hand, consumes an average of 660ms when responding to a request sent by web browsers.
The winner here is Bigrock.
#9. Windows Hosting Services
Godaddy guarantees Microsoft Window servers for ASP.NET hosting, ASP, and SQL Server users. These are some of the extra features included in the windows hosting plans.

Provision of flexible and easy to use Odin Plesk control panel.
A 24/7 security monitoring and DDoS protection.
Provision of Windows® Server 2012 R2 that is available under every plan. There is also a provision of Microsoft IIS 8.5.
1-click install of 50+ free applications (WordPress, Joomla, Drupal, etc.).
200MB MSSQL database storage.
Bigrock also has some extra features in it's windows shared hosting plans. Here are some of the major attributes.
A well-distributed DNS infrastructure with unlimited sub-domains and email accounts.
Great for websites developed using codes in ASP, ASP.NET, PHP 5.3 to PHP 5.4, with advantages of both MS-SQL and MySQL.
Great infrastructures like Dell Rack servers with Dual Quad Core Xeon CPUs w/32GB RAM & Windows Server 2008.
Powerful Email accessible from any device with state-of-the-art Webmail powered by MailEnable.
Provision of over 300 applications (WordPress, Drupal etc.) that is installable with one click.
Since both web hosts offer windows hosting services with lots of features, you could go with either Bigrock or Godaddy.
#10. Features and Pricing - Bigrock vs Godaddy India
Godaddy and Bigrock provide many features to their customers. Below is a table comparing the features and pricing of the two web hosts.
Godaddy offers three plans called Economy, Deluxe, and Ultimate. While BigRock offers four plans called Starter, Advanced, Business, and Pro. Their prices are affordable and they can be checked on their respective websites.

#11. VPS Hosting Services
Both Godaddy and Bigrock features a VPS hosting service. This uses a technology called virtualization in which isolated virtual machines are created. They come with dedicated resources and full root access. They provide the functions of a dedicated server at no cost.
Godaddy offers a reliable, fast and secure VPS hosting for its customers. This is achievable by the use of best servers, routers, network infrastructures and firewalls it features. Godaddy VPS hosting plan comes in five plans named after their RAM sizes, 1GB, 2GB, 3GB, 4GB, and 8GB. All plans are available on both Linux and Windows with slight differences in their prices. The Windows plans are $10 higher than the respective Linux Plans. All the plans share the following attributes.

1-year free SSL certificate
Three dedicated IPs
Free setup
5,000 SMTP relays
File and DB backups
Managed and fully managed Windows and Plesk control panel.
Bigrock also offers a fully managed VPS hosting service that has all the features of a dedicated server with any extra charges. Bigrock VPS hosting plans comes in 4 plans named V1, V3, V5, and V7. Each of the plans has the following attributes.
One free dedicated IP.
99.9% guaranteed uptime with RAID –DP to ensure zero data loss.
Enterprise level storage.
Reliable 24/7 support.
VPS performance Benchmarks powered by VIRTUOZZO, CentOS, NetAPP, cPanel and Dell Hardware.
Godaddy VPS plans have more robust and higher plans than the Bigrock VPS plans.
Godaddy is the winner in VPS hosting.
From the above-detailed comparisons, Bigrock beats Godaddy in many areas even though the differences are slight. Godaddy no doubt is a big name with a high reputation out there with top-notch features. However, some key features make Bigrock take the lead in the comparisons.
From the comparison, Bigrock had a better speed and response time, a free website builder and a better user interface compared to Godaddy. Godaddy also has a more powerful VPS hosting service but tied with Bigrock in security features, customer support, uptime and money back guarantee.
The final verdict is up to you – you could either choose Bigrock or Godaddy, however we suggest you think of all the features that you need to Create a WordPpress website before making your the final choice.
Do leave a comment below and let us know which web hosting did you chose and your reason!