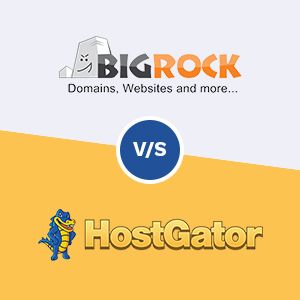 With a large number of people diverting their attention to the online world, there has been an increase in the desire to build personal blogs and business websites.
However, even though creating a website with WordPress is easier now, there are many things that need to be in place before a website is launched. Among them, one of the major things to consider is the web hosting provider.
Finding your first web host can be intimidating as there are hundreds of hosting providers available. They all try to convince you that they are the right choice by advertising features or services you do not really need. So, part of the problem is that there is a lot of misinformation out there.
Despite this, it is not very hard to differentiate between a good hosting and a bad. It is more about deciding what you really need. This write-up shows the pros and the distinguishing features between two of the leading world web hosting companies: BigRock and HostGator India.
These two companies are known for their economical & reliable web hosting services. So let's start off this BigRock vs HostGator India review, by looking at a brief overview of both.
Which Web Host To Choose – BigRock vs HostGator India?
When comparing BigRock vs HostGator India there is a stiff competition as both offer a wide variety of features at an economical rate. BigRock does edges out HostGator when it comes to domain pricing and the range of hosting packages that it offers. So, in summary of HostGator India vs BigRock, which web host to choose, the answer would primarily depend upon your budget and web hosting requirements.
#1. General Overview Of BigRock & HostGator
General Overview Of BigRock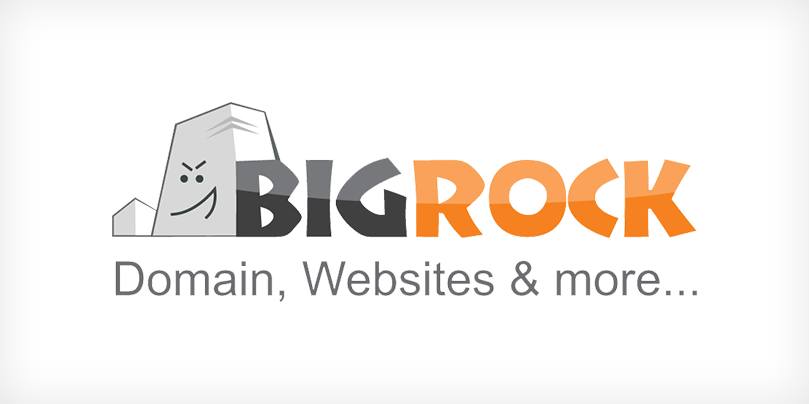 BigRock is the biggest Indian homegrown web hosting company. They offer the best Do It Yourself (DIY) web builder packages that has made the company popular among webmasters. Their web hosting packages are feature-rich. In addition, they also offer SSL certificates, emails and domain name services.
From round-the-clock support to BigRock Coupons , a wide range of hosting packages and other add-ons, it is no doubt that in India; BigRock is the most reliable hosting service provider with an ICANN-accredited stamp.
To know more about BigRock India, read this detailed BigRock Review.
General Overview Of HostGator
HostGator is another popular web hosting company known for its amazing customer support and quality hosting. Their web hosting packages are economical and comprise of many features ideal for both start-ups & large enterprises. So it is little wonder why webmasters, bloggers and internet marketers patronize HostGator for web hosting services.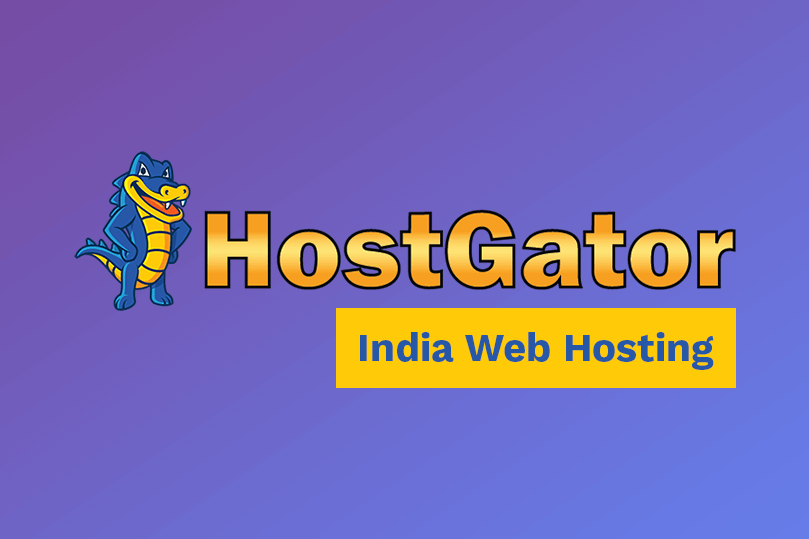 In a bid to make access to web hosting easier for web developers, HostGator.com launched its Indian based office in Nasik, Maharashtra. Here, it provides customers with a localized payment option. Plus, Indian webmasters can now enjoy a faster loading of their websites due to a local server.
The Indian HostGator company looks the same as the US site. However, few noticeable differences are their internal functionality i.e. Indian HostGator offers hosting and domain services via the Reseller Club.

#2. Features Of BigRock & HostGator India Web Hosting
Features Of BigRock
Apart from unlimited bandwidth, storage and email features, BigRock also offers users a dedicated cPanel and a user-friendly DIY website builder. It has an interface that guides users who are not proficient in programming languages. It gives a supportive feature to the majority of the programming languages (Perl, Python, CGI, PHP, and many others) best known to most developers.
BigRock also offers Reseller and Dedicated hosting packages. Other services like Softaculous provide 1 click WordPress Install and other web scripts installation. The server is highly secured as BigRock makes use of robust tools like Rootkits Scanning tools, antivirus and malware.
Features Of HostGator
HostGator India provides you with all the essential features you might need to host your website. Besides regular hosting packages, HostGator also offers web hosting plans for Drupal, WordPress and eCommerce portal.
As a beginner, you might want to start with a Shared hosting that costs the least and later on, when your traffic increases, you can move to a VPS server. To upgrade, all you need to do is call & ask their customer support to move your website and it will be done free of charge.
On purchase of web hosting from HostGator India, you can avail features like a cPanel, instant back-up, site builder, 1-click WordPress install, programming support and much much more.
Verdict :
In this
BigRock
vs HostGator comparison, both company offers a wide range of essential features, so its a tie.
#3. BigRock & HostGator Payment Options
BigRock Payment Options
You can make payment to BigRock India through any of the following means:
Credit Cards (Visa/Discover/Amex/MasterCard).
PayPal (user must have a verified PayPal account).
Other Offline Payment Options.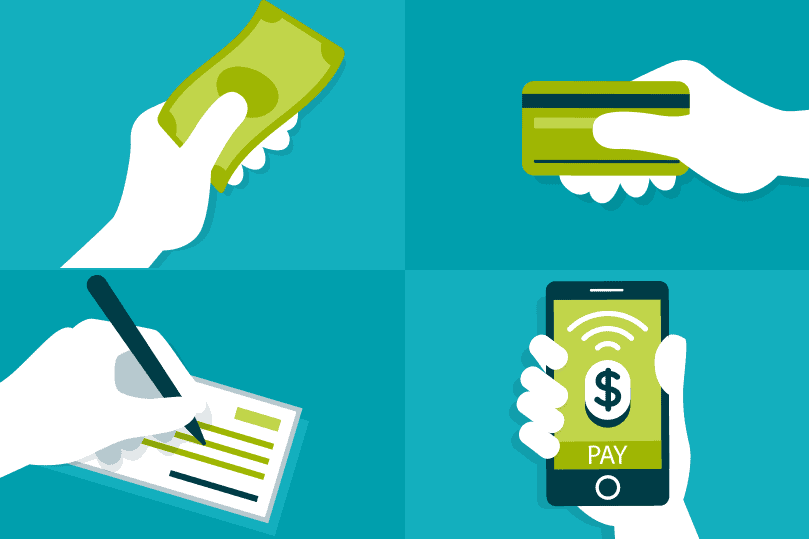 HostGator Payment Options
You can make payment to the HostGator India via:
National Electronic Funds Transfer (NEFT).
Real Time Gross Settlement (RTGS).
Debit/Credit Card.
Net Banking.
Also note, that both HostGator and BigRock offer a money-back guarantee if you do not want to host your site with them.
Verdict :
BigRock
and HostGator India both offer numerous payment options. Thus, here, both are Winners.
#4. Customer Support Services
BigRock Customer Support
Most of the customers' complaint to BigRock via email (emails sent to the Sales/Support) are always quickly addressed to the best of the customer's satisfaction. Their customer support is highly efficient in view of my records of association with them. Plus, they offer a dedicated BigRock toll-free number and BigRock technical support number for further assistance.
Sometimes ago, I faced account port80 blockage problem due to a plugin. I reached out to the support team via email and the issue was quickly resolved. In addition, their hosting cPanel helps monitor killed SQL queries. It also offers a robust security to the hosting account which results in the smooth running of the website.
HostGator Customer Support
Talk of support, HostGator is simply the best. For the whole 24 hours, you can submit a ticket and get a fast response. Sometimes ago, I had a problem migrating my client's blog together with a corrupt database. Both times, HostGator technical support was great. They did not hasten me, instead, they patiently helped me to upload the database file, and the blog was functional.
You can reach HostGator via a number of means including phone, email, ticket and live chat.
Verdict : With regards to the Customer Support, it is again a tie between the two.
#5. BigRock & HostGator Server Uptime
One of the things to consider when buying a web hosting is Uptime. A good uptime will ensure that your site is functioning 24/7, which will help reduce bounce rate and increase traffic & sales.
Both HostGator and BigRock India offer a great uptime (about 99.8% guaranteed). I didn't face any uptime issue when hosting with either one of them.

#6. Products Offered by BigRock & HostGator
Products Offered by BigRock
BigRock provides services for Linux hosting, Windows hosting, WordPress hosting, Cloud hosting, Reseller hosting, VPS hosting, eCommerce hosting and Dedicated servers. It uses one major Shared hosting type, under which they have 3 sub-types along with the option to upgrade to Cloud Hosting.
Starter Plan
Advanced Plan
Pro Plan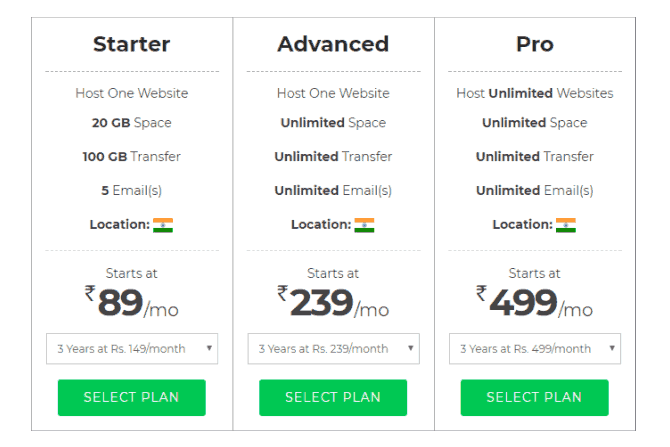 The BigRock Starter Shared hosting plan costs 89 INR per month. With this plan, you get 20 GB Space, 100 GB Transfer and 5 Emails. I will recommend this plan for new bloggers who want to host a single website.
The Advanced Plan is the best package for web developers, who are developing websites for their customers; they can use this as demo hosting. It starts at 239 INR per month and offers unlimited disk space, transfer and emails. You can host a single website on this.
The PRO Plan is perfect for all kinds of businesses and costs 499 INR per month. You can use this plan if you want to host unlimited websites as it offers unlimited disk space, transfer and emails.
Lastly, BigRock offers a simple upgrade to Cloud hosting @ 499 INR per month. It offers the same features as the PRO Plan along with 4 GB RAM. The only difference, your website will be hosted on a US server.
Other products offered by BigRock includes:
Domain Names (Registration and Transfer).
DIY Website Builder and BigRock Instant Site Builder.
Email Hosting (Business, Enterprise and G Suite).
CodeGuard, SiteLock and Digital Certificates.
If you are interested in buying hosting from BigRock, you can get one at a discounted rate, thanks to the availability of the wide range of BigRock Hosting Coupons. Here, you can get up to 51% Discount along with two free email addresses.
You also can buy domain at a discounted price, by using BigRock Domain Coupons. They provide domain at a cheap price with two free email addresses. Nevertheless, with web hosting packages, you can have as many emails as you want.
Products Offered by HostGator
HostGator offers a list of hosting packages that include Shared, Reseller, Cloud, WordPress, Dedicated and VPS. They also offer Windows hosting, however, I would suggest one stick calmly to Linux hosting. The hosting services of HostGator are available in 4 different sub packages; Starter, Hatchling, Baby and Business Plans. All of these plans, except for the Starter plan, offer unlimited bandwidth, email and storage.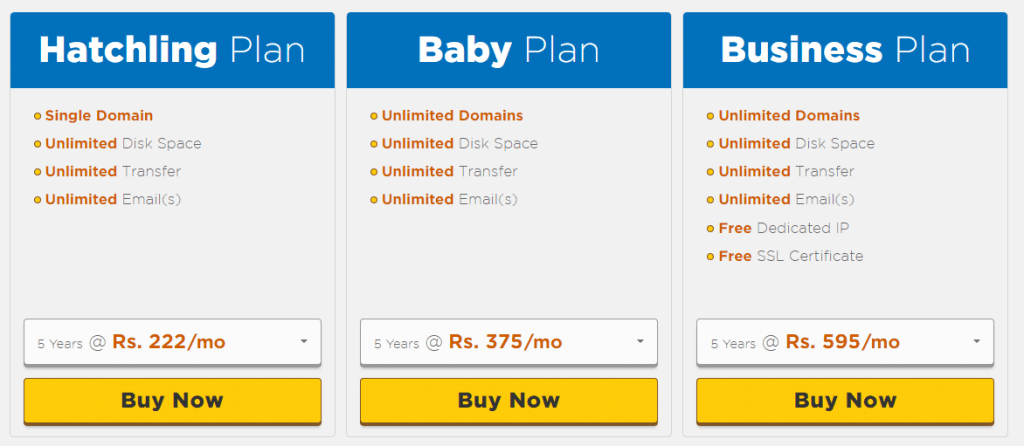 The Starter and the Hatchling plan are ideal packages for any blogger who is planning to host only one website. While the Starter package offers 10 GB Disk Space and 100 GB Transfer with 5 email accounts, the Hatchling plan offers unlimited disk space, transfer and emails. You can start with either the Starter or the Hatchling plan and later on, upgrade to the Baby Plan to host multiple WordPress blogs or websites.
Besides the Hatchling Plan, another popular HostGator plan is the Baby Plan. With this plan, you can host multiple websites and it encompasses every other feature of the Hatchling Plan. You can host up to 5 WordPress blogs without any issue with the Baby Plan.
Lastly, the Business Plan is the best option for business owners and corporates, who want to host multiple websites. Apart from the features mentioned in the above 3 plans, this plan also offers one dedicated IP, private SSL and a dedicated HostGator toll-free number.
Verdict :
BigRock
wins this round as it offers an extensive list of products compared to HostGator.
#7. Benefits Of BigRock & HostGator Hosting
Website Speed

There are many reasons for a slow loading website and one of the key contributors is Latency. Latency is the time taken by the server to receive or process a request made by the user. This is usually affected by the distance between the web server and the website user.

By hosting your website on BigRock India server, you can largely reduce the impact of latency on your website, since the distance for a request to travel to the server will considerably drop down. Indian subcontinent also hosts the HostGator web servers; which simply means you can access your site in a comparatively quicker manner.

Therefore, if you are accessing your site from the Indian subcontinent, both web host can provide you with an awesome loading speed.

Different Payment Methods

One of the major problems faced by Indian users on HostGator.com was no local payment options. With the setting up of HostGator India, local payment options are widely available. It does not matter whether you are using your debit card or internet banking, you could have a smooth & secure transaction with HostGator India, as is the case with BigRock payment options.

Better Organic Ranking

The IP of the web server is one of the factors that could affect the ranking of a website on Google. If your target audience is Indians, Google recommends you to have an Indian IP address. With the advent of HostGator India, (that uses an Indian IP address), this brings big advantages to the doorsteps of many users.

Website hosted on BigRock have a better organic SEO ranking because search engines recognize that you are hosting your website in India. They utilize this information to rank your website higher for any query made by an individual in India, compared to websites hosted on international platforms.
Apparently, if you are located in India, your final decision should be simple enough. If you want local payment options, the best local technical support and have a website that concentrates on an India audience, both – BigRock and HostGator India – offer superb features such as low latency, quality service and great speed.
So, judging by the detailed BigRock vs HostGator review, which hosting to choose, completely depends on your needs and budget.
Like to read some other comparison reviews? Check out these in-depth BigRock vs Bluehost and BigRock vs GoDaddy reviews.