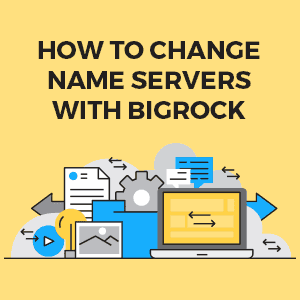 Hi There, hope you enjoyed reading our previous 2 articles on BigRock vs Bluehost and BigRock vs HostGator. Today, we'll take a look at Name Servers, especially, how to change Name Servers at BigRock. Let's get started!
With over 6 million domains running successfully and with more than 8+ years of experience serving customers worldwide, BigRock is simply the go-to service provider for your web services.
Some of its distinct characteristics and trademarks include 99.9% server uptime, 660ms average period of request-response, individual BigRock login for customers and dedicated customer support.
It also has an impressive turnaround time, provides round-the-clock on-site monitoring, and offers free email accounts & Visit BigRock. Their hosting and domain services cover small businesses, medium-sized ones and enterprises of various degrees.
Apart from web hosting services, BigRock offers domain name registration, business-class email services and website builder products to customers worldwide. They also boast some of the best security features and SSL certificates in the industry. (Read this BigRock Review to know more.)
This article provides a systematic guide on how to change name servers with BigRock. Understanding this concept is important as every website owner should have a basic knowledge of the tools involved in the processing of his or her website.
How to Change Domain Name Servers (DNS) at Bigrock.in under 5 mins?
If you have registered a domain name at BigRock, then here is a simple step-by-step guide on how to change Domain Name Servers on BigRock in under 5 mins with screenshots. Learning how to manually change name servers is a basic that all website owners must know. Thus, go ahead & check out this article on how to change name server with BigRock and make the most out of it!
But, first, we'll begin by explaining some of the complex terms you might have overlooked in your years of hosting ownership.
#1. What is a Name Server?
A Name Server is a specialized server on the Internet that processes requests and handles queries from a local computer. It locates the domain name of various websites and loads its various services.
Think of a Name Server as a phonebook that contains your friend's numbers you might possibly want to call. You don't remember all their numbers offhand, do you? But you do remember their names.
That's exactly what Name Servers do for us on the internet.
For example, to visit BigRock.in, you only need to remember BigRock.in and not numbers i.e. the IP address of BigRock.
#2. Understanding Name Servers
Understanding the concepts behind the working of BigRock's Domain Name Servers can come in handy for you in managing your website. The key concepts behind its operation are highlighted and explained in details below.
BigRock IP Addresses and DNS

Internet devices communicate with one another through defined protocols and each device is assigned an address known as the Internet Protocol (IP) address.

There are two kinds of this internet protocol; IPv4 (IP version 4) and IPv6 (IP version 6).

The IPV4 protocol is the commonly used protocol between internet devices, whereas the IP version 6 is still relatively new.

IPv4 addresses have four numbers separated by three decimal dots as in 172.52.60.96, while the IPv6 addresses have eight hexadecimal number separated by colons as in 2011:03bc:85a3:0000:0000:8b2e:0370:7243.

How Are IP Addresses and DNS Generated?

For most devices, their IP addresses come from a Dynamic Host Configuration Protocol (DHCP) server. These devices ensure that your device has the IP address and other configuration details needed to function online. Addresses assigned by the DHCP server are called Dynamic IP addresses.

Other devices like web servers operate using Static IP addresses. This ensures that they are accessible always and can be reached by other devices on the network with the same IP address configured on them.

However, humans can't possibly memorize and remember a long list of numbers (IP addresses). Hence, the introduction of the Domain Names System (DNS) and ultimately domain names.

Domain Name System

The Domain Name System (DNS) is popularly regarded as the directory of the web. You don't have to memorize a long list of addresses because it maps a name to each IP address on the internet.

For example, if you want to visit a website, instead of using the IP address of that website, the DNS assigns a name for that web address. This, subsequently, enables you to access that website through a domain name.

In short, when a visitor wants to visit your website he or she enters your domain name(XYZ.com). The internet browser then looks up the name through DNS and resolves it into the corresponding IP address. Simply put, DNS is the central database of the internet.

Role of Name Servers in Loading Pages on Your Web Browser

You enter the address name of the website into the address bar then your machine uses DNS to retrieve the current name servers for that website and ask for that address record of the website from the name server.

The name server responds back with the IP address of the website. Your machine then sends a request to that address alongside the page query and then the web servers hosted by BigRock sends the requested page to that browser.
#3. How Does BigRock Offer DNS Service?
BigRock is India's #1 web host and is very renowned for its efficiency, effectiveness and quality of service delivery. Here are some hosting comparisons that will help corroborate this fact.
It renders hosting services to its customers and one of the ways by which it does this is by managing web servers for its clients.
A DNS software is what facilitates the transfer of data from a web server to any related Domain Name System. BigRock has made this very easy for its clients as they have already installed this software on the web server. This web server is called BigRock Name Servers or BigRock DNS Servers.
#4. Why Should You Change Your Name Servers?
After buying a domain name, (hope you made use of the BigRock Domain Coupons) purchasing a hosting account and installing WordPress, you need to point your domain name to your website.
As stated earlier, when a domain name is entered into the address bar of your browser, DNS resolves it into the corresponding IP address.
When you Make a WordPress website, you need to point your already bought domain name to that website.
So, when that domain name is entered in a browser or when there is a query for your domain name, the Name Server (also known as DSN server) resolves it into your website's IP address and directs visitors to your website.
For the domain to be found on the internet, you must link the domain to BigRock's name servers. The first step to linking your domain to the name servers is to get the names of the servers via BigRock control panel.
#5. How To Change Name Servers with BigRock?
If you already have a hosting account with BigRock, to ensure that your website can be looked up on the web, you have to update the Name Server details. To this end, changing the Name Servers is the major step to updating those details. This change and the update can be done via BigRock cPanel login.
Step 1 : Visit BigRock. On the top right-hand corner of the homepage, find "My Account". Click on this link to be directed to the BigRock customer login page. Enter your username and password to log in.Please Note : if you get a message saying 'Your control panel has been disabled by BigRock,' do contact the BigRock support team.
Step 2 : Click on the "Manage Orders" tab. A drop-down box sub-diving the tab into List/Orders, Transfer Domain, Bulk tools, etc, would appear.Click on "List/Orders." This brings up the list of domain names that you have registered with BigRock.

Proceed to click on the domain name you wish to change the Name Servers for. However, if the domain has been suspended or locked, you would need to unlock it before this process can be continued.

After choosing the domain(s) you want to change the Name Servers for, a new window displaying a couple of name servers would pop-up. Note down these names as they are the servers designated for your hosting server space.

Step 3 : The Domain Registration section is divided into Contact details, Policy Protection, Child Name Servers, Domain Secret, Name Servers, Domain Theft Protection tabs. Here, click on "Name Servers."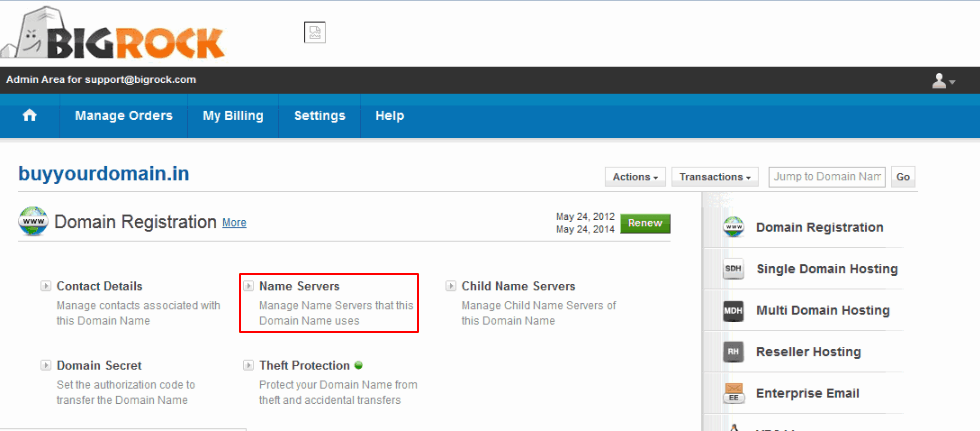 Step 4 : A pop-up box will appear showing the BigRock default name servers. Clear each default name server from name server 1 to name server 5.BigRock gives you 5 fields to enter your name servers so you can enter as many as you want to use for your domain. However, BigRock requires that at least two name servers are maintained for your domain name.Click on "Update Name Servers" once done.

The other servers are just to provide a bit of redundancy and backup such that if any of the first servers failed, you can still be assured of an uptime. These name servers are used to point your domain name to your website.

Thereafter, you would get a pop-up message that says "The Name Server details have been successfully updated." Your website should begin appearing in the browser minutes after.
Note: it would take about 24-48 hours before your website can be available on the worldwide web. This is the standard time frame for a process called DNS propagation.
Basically, it is a process of clearing the cache and refreshing according to the Time To Live (TTL) of the server. After this is done, your site can now be visited. This process cannot be hastened because no one Internet Service Provider (ISP) or company controls this process.
You can confirm if your domain has been propagated by using a domain routing tool or checking the routing sequence of your website on your computer. If it shows that your server is with BigRock, then it has been propagated.
Further Reading: What Happens If BigRock Domain Names Expire?
Having stated earlier that the information on this article is aimed at educating you on how to change name servers with BigRock, I would advise that for any major changes or complication in their service that you need to fix, contact BigRock and have them fix it for you. This applies to non-professionals.
However, if you are a professional or have prior knowledge of how name servers are edited, then you should have no problem with this.
As always, to purchase web hosting, use these BigRock hosting coupons.