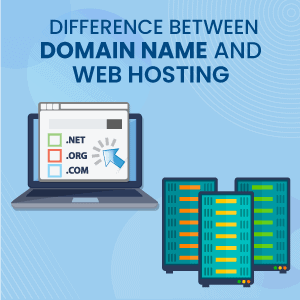 Are you planning to create a new website? Then it is essential to know about the domain name and web hosting. For a new user, these two terms can be quite confusing. Most people also take these to be similar. But, there is an extensive difference between the two. For building a successful and sustainable website, you should know how the two work.
What's the Difference Between Domain Name and Web Hosting?
Domain and hosting are two different entities, there should be no confusion. All the domain names are unique. If you want to visit a website, you don't have to remember any strings of numbers or words, thanks to a domain.
Just type in the domain name and, you'll reach the website. Hosting helps you to store your website's files, and together they make your site accessible to users online. Domain name hosting offers you different features along with domain name registration. Whereas, most web hosting plans are highly flexible and offer abundant features.
Thus, check out this article to know the difference between hosting and domain and learn why it is important to register a domain and buy a hosting plan to create a new website.
1. Domain Name: What it Means?
The Internet is a network of computers that are connected through cables. To identify them, each computer has a unique IP address. It is a combination of numbers, which are separated with dots. For humans, it is difficult to remember these numbers. That is the reason domain names are invented. It can have words that make it easier to remember the web address.
The domain name is the address of the website, the one that is used in the URL bar. Before you set up a website, you'll need to register for a domain. If your website is a house, then the domain is the (web) address.
It is a part of text identification, which appears as a part of your website address. You'll be able to classify the website categories using different top-level domain names.
More than 5000 top-level domains are available for registration. The most popular top-level domains are – .com, .net, .org and .co. Other generic domains include – .in, .ca, .us and .academy.
Further reading:
1.1) TLD's For Domains
The domain name address is incomplete without TLD. It is the last section of the domain name that follows a dot. The other name of TLD is the domain suffix.
Internet Corporation for Assigned Names and Numbers [ICANN] is responsible for managing the IP address and domain names. It recognizes TLD in different forms – country code top-level domains ccTLD, generic top-level domains gTLD, and sponsored top-level domains sTLD.
Most TLDs are open for public registrations, but some are strictly reserved for the citizens of corresponding countries. The cyber laws and local regulations rule the activities of such domains.
Certain extensions are used to describe a business or characteristics of the web page. Biz is for a business website, and Edu is for education. Similarly, Org is for a public organization.
To purchase a domain name, use these BigRock domain coupon and get a discount!
1.2) Things to consider when choosing a Domain Name
Make sure that the domain name of your website is unique and not previously registered.
It should be simple and easy to remember. You can't expect your customers to remember long names to reach your site. The smaller the length, the more relevant it is.
You need to evaluate the purpose of your website. Do you need it for personal reasons, company, or to provide information to your users?
Don't buy domain names similar to sites that already exist or include numbers in your domain as this would confuse your users.
You can also transfer your domain from one registrar to another. Read this guide to know how to transfer a domain from GoDaddy to BigRock.
2. Web Hosting: What it Means?
Web hosting is an internet-based hosting service that allows users to make their websites accessible worldwide. Depending on your budget and specifications, hosting providers offer different web hosting services.
It is a storage location where your website files are placed. If the domain name is the web address of your house, then the actual house is the hosting server of the site.
It is the primary difference between domain and hosting. When the user tries to access your site by entering your website address in the URL, the domain name points to the files that are stored on the server.
Once it is connected, the users can see your site online. As web hosting services host your website, you'll need both domain and hosting to create a new site. Some hosting servers help to run your site without any technicalities. Other services may give full or partial control of the servers.
Many types of web hosting plans are available, but the most common ones are - Shared, Dedicated, and Managed. Read this BigRock review to learn the different web hosting plans offered by BigRock.
Many websites are hosted on the same server in Shared web hosting. It is an ideal choice for small businesses, startups, and bloggers. All the websites use the same CPU and RAM.
Even if the site stays small, there should not be any problem. The only issue with this hosting is the crashing of the server. If one website crashes due to any reason, it will affect all the websites on the server.
Further reading: Shared Hosting vs WordPress Hosting
A Dedicated hosting hosts each website on its server, unlike Shared hosting. Since the sites don't share the server, they have a larger bandwidth and can deal with a surge in traffic.
It offers a large amount of file storage for websites that have lots of information. The user has direct access to root and admin. It is a great choice if the company has a skilled developer. Large companies prefer Dedicated hosting as it offers the flexibility of resources.
Most new users often get confused between Managed and Dedicated hosting. Managed hosting lets you add a full suite of tools that help to run your website. You'll be able to manage files, emails, and many other features of your website. It saves a lot of time and is ideal for medium and large size business companies.
Here are a few more types of web hosting plans:
2.1) Things to consider when choosing a Web Hosting Company
Consider the data center location before buying a web hosting plan. If the location is near, the speed of your site will be good.
Always read hosting reviews, as an honest review of the hosting plan will let you know about the pros and cons of each.
Look for good customer support that offers pre and post-sales. It plays an important factor to create and maintain your site.
A good website speed is a must as a slow speed could lead to a higher bounce rate.
You also need to consider the uptime feature, which should be more than 99.9%.
Compare the pricing policy before you purchase. You'll have to ensure that your company does not have to bear the huge costs of hosting. Also, if you are considering buying hosting from BigRock, then don't forget to use these bigrock promo code.
#Difference Between a Domain Name and Web hosting?
The domain name and web hosting although different are loosely connected. You won't be able to create a site without a domain name or a hosting account.
For registering a domain name, go to the domain registrar site. Most companies allow domain name registration for a minimum period of one year. Choose the term depending on your business needs. After you buy a domain name, you'll have to renew your domain name every year before it expires.
Web hosting companies help in storing and serving your websites. You'll be able to choose from a basic plan that is ideal for a small budget site to dedicated plans that provide added bandwidth.
Web hosting solutions also offer Cloud hosting plans that scale your website depending on the resources you need. Go to a web host of your choice and select a domain name. After which, you need to choose a hosting plan depending on your needs. To get a discount, make use of BigRock hosting coupons.
Final Words,
Without a domain name, your website won't have any address, and without hosting, your website won't have any relevance.
However, if you're planning to buy web hosting, then hosting companies may provide a free domain name or a subdomain depending on the plan. But, buying a custom domain name helps in branding.
You'll be able to move your domain name to different hosting companies. You also can migrate from different hosting plans moving from basic to premium for expansion.