Hi All, hope our previous blog post on BigRock vs HostGator was informative. Moving on from it, today, we'll take an in-depth look at how to transfer a domain from GoDaddy to BigRock. So let's check it out!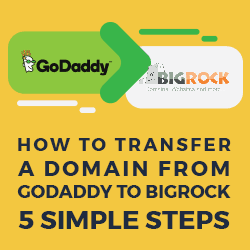 Contrary to popular belief, Domain Migration or Domain Transfer process is not very complicated. Proper information and resources are just what you need for a safe and complete Domain transfer.
For all those who want to transfer domain to BigRock from GoDaddy, here are 5 simple and effective steps. These will show you exactly how to transfer domain from GoDaddy to BigRock in a seamless manner.
Check it out!
Check Your Domain Availability below
How to Transfer a Domain from GoDaddy to BigRock?
If you are looking to transfer your domain name from GoDaddy to BigRock then this step-by-step article can guide you to ensure there is no error. Being a popular domain registrar, BigRock is the most sought-after web hosting provider in India.
Thus, follow this – transfer domain to BigRock from GoDaddy – guide that comes with screenshots to make a smooth & hassle-free shift from one platform to another.
Further reading: BigRock vs GoDaddy vs HostGator
2. What Is A Domain Name?
After designing the basic layout of the website and choosing a competent web hosting option, the next step is to select a good Domain Name.
A Domain Name gives your website the identity and specific web address, using which the viewer can access your content on the internet. Usually, the web hosting platform also provides domain registration services as well.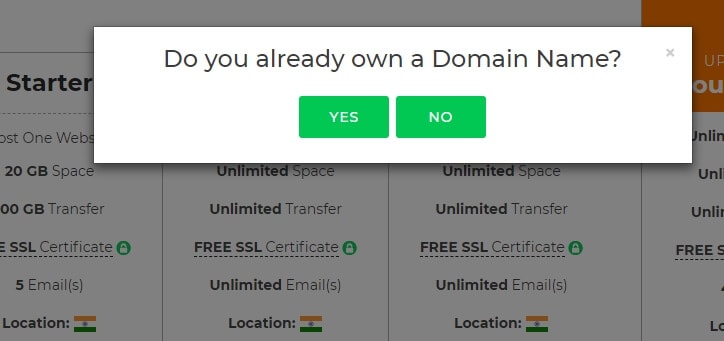 However, there can be a number of reasons why any user might want to opt for a different platform for a Domain and a Hosting. Some of the common reasons why most users switch over to a different platform are:
4. Why Transfer Domain From GoDaddy To BigRock?
Today, any business or service cannot survive the intense competition without a dynamic and responsive website.
The Domain and hosting platform plays an important role in this online venture, wherein, they can make or break your online reputation. As such, a change of Domain often gives users better control and freedom of action over their web content.
While GoDaddy works solely as a Domain Name registrar, BigRock offers its users a wide range of hosting and website development solutions as well. This enhances the productivity and reach of your e-venture.
6. How To Transfer A Domain From GoDaddy to BigRock?
GoDaddy is a huge platform that was once a pioneer in the field of Domain registration and web hosting.
However, with time, many other platforms have been launched that offer far better services at competitive prices, BigRock happens to be one of them.
GoDaddy is a smart choice for first-time users and amateurs who are looking for a cheap platform to launch their website. But, it fails to support the business as it starts growing. This is one of the reasons why most users transfer their Domain to BigRock.
To know how to transfer domain to BigRock, read this simple BigRock domain transfer guide. But, before you initiate the request for Domain transfer at BigRock, you need to perform some pre-requisite tasks on your GoDaddy account.
Things To Do On GoDaddy
Now, you need to initiate a request for Domain transfer at BigRock. We suggest you create an account on BigRock before processing a migration request for faster processing.
Things To Do On BigRock
Once done, check your email for the Approve Transfer Link email by BigRock. Once you click on the link, you'll see the message "The request for transfer of (Domain) has been confirmed" pop up, this is BigRock notifying GoDaddy of the Domain transfer.
Please Note: it can take roughly a week for activating Domain on your BigRock account. Also, on transfer, if you are asked to change the Name Servers, then refer to this complete guide on how to change domain name servers at BigRock for more details.