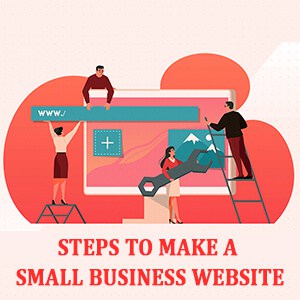 Making a website is the first step in putting your company in a position to succeed. It enables you to market your goods, establish a reputation, stand out, and, quite honestly, compete.
Having a website lends credibility to your small business. You want to rank up in the search results for your product or service when someone conducts an online search. However, making a small business website on your own might be difficult. Therefore, we are here to guide you! Learn how to create a small business website using the detailed instructions provided in this blog to build and expand your brand's online presence.
HOSTING
Click To Copy & Apply Coupon
How to create a website for small businesses?
Creating a small business website can seem overwhelming, but with the right tools and a little guidance, it can be a breeze. Follow these steps to make your small business website a success:
1. Select a user-friendly platform like WordPress or hosted website builders like Wix or Squarespace,
2. Choose a unique domain name,
3. Locate a secure and scalable hosting company like Bluehost,
5. Customize your website with essential design elements like a header, footer, homepage, blog, and about us page,
6. Make your site your own by updating pages and configuring the header and footer.
A. Steps to Make a Small Business Website
1. Select a platform for building your website
Utilizing a user-friendly platform that enables you to create a website without any coding knowledge is the best choice. We suggest the following for small business websites:
WordPress: The platform comes in two different iterations. You can try outorg since it gives you more power and access to the best features for your website. You must make separate hosting arrangements.You can check out this blog to learn more about some popular WordPress themes.
Hosted website builders:You should consider using a reputed website builder like Wix or Squarespace if you want all-in-one solutions. These platforms offer complete website designs that can be altered right out of the box using a drag-and-drop tool. Although you won't need to work with a different company to host your website, there won't be much creative flexibility.
2. Select a domain name for your small business website
Choosing the ideal company domain name is crucial for developing your internet presence. The majority of small businesses decide to use their brand name along with a top-level domain (TLD) extension like.com. It can be difficult to secure the precise domain name you want because there are so many .com domains currently registered. With Bigrock domain coupon you can easily find a domain name that fits your small business website. If you have any doubts and want to check out some reviews, you an read Bigrock reviews.
3. Locate your hosting company
You can omit this step if you opted to use an all-in-one website builder. Users of WordPress should continue reading. You can choose from several top-notch beginner-friendly hosting firms. Our best choice is Bigrock hosting coupons, which is officially endorsed by WordPress.org for several reasons, including its availability of a user-friendly interface, free SSL certificate, and 24/7 customer service and support. For special discounts, you can always check out Bigrock coupon codes.

4. Invest in website hosting that is secure, scalable, and offers quick technical assistance
A company that offers the tools and services necessary for a website to be accessible online is referred to as a website host (or, occasionally, a website hosting provider). So that users who type in your website address are taken to the website you have saved on your hosting account, you link your domain name to your web host.
5. Choose a good e-commerce platform
If you want to make money off of your website, you'll need the right technologies. If you want to let customers perform financial transactions with you online, you must choose the platform that is suitable for your business strategy.
The following is a list of popular small-business e-commerce platforms:
WooCommerce: One of the most well-liked e-commerce platforms in the world, WooCommerce enables you to create an online store from a WordPress website. It links to WordPress and provides a large selection of plugins, giving it the same freedom as WordPress.
Shopify: An online store can be created and customized using the Shopify cloud-based e-commerce platform, which also lets you control products, inventory, payments, and delivery. Your e-commerce site, if you already have one, would technically be separate from it because it is an independent platform hosted on the Shopify server rather than a WordPress extension like WooCommerce.
Shopify Plus: Shopify Plus is Shopify, but it offers additional employee accounts, a better level of customization, and international e-commerce choices. Additionally, the level of support is higher. All of this entails a greater subscription fee, yet WooCommerce still offers more customization options and flexibility.
Wix: Actually, Wix has a pretty user-friendly Shopify plugin. You must upgrade your Wix account and become a Shopify subscriber to use it.
GoDaddy Online Store: A relatively new and user-friendly e-commerce standalone subscription platform is offered by GoDaddy. To start your shop with GoDaddy Online Store, very little technical experience is required. The templates are elegant and simple, and they can be modified to some extent.
6. Make Your Site Your Own
The next step in creating a business website is designing a small company website is modifying the template you've selected. This includes updating its pages, adding new pages you need, removing pages you don't need, and configuring the header and footer for the entire site. Each platform has its tools for site design, and some are more intuitive than others.
Here are some web design essentials to help you customize your website:
Header\Footer: On every page of your website, the header and footer are both visible. A sign-up form for emails, brand information (logo, company name, and slogan), contact information, links to social network marketing profiles, the main webpages or sections, and high-level information like your business hours are frequently found in footers. Similar to the header, a search box here can aid site users in finding the information they are looking for.
Homepage: Most website visitors start on this page. You should include a broad call to action that resonates with your target audience as well as easy navigation options to help website visitors find the content they want. High-level data, such as the number of clients served or years in business, accolades, and memberships, are frequently found on homepages to convey credibility.
Blog: If you want to use content marketing to drive more visitors to your website, create a landing page for your blog. Design this page with several parts (such as a set of featured posts, topic-specific posts, and recent posts) according to your customer profiles and personas because this is another chance to attract people from your target audience who are looking for businesses to work with.
About Us page: An about us page is another approach to convert website visitors, while it isn't fully necessary. Utilizing your brand's mission, vision, slogan, values, and other aspects can help you develop partnerships.
Contact Us page: You should make a specific contact page with additional means to get in touch, such as a contact form, in addition to having contact information in your header and footer.
7. Make your website search engine friendly
 You must build an SEO-friendly website if you want to increase online traffic for your business. When your website is search engine friendly, you'll show up in more relevant search results and increase website traffic.

8. Launch your website
Go over your website before releasing it. Test it out on a desktop and a mobile device to see how it seems and functions. Check your writing for typos and dead links. Press "Publish" when everything is prepared to go live.
As you can know from reading this blog, it can be more difficult than you initially thought to build an excellent small business website. However, your small business will have a great chance of prospering in the online market if you stick to the instructions provided in this blog.