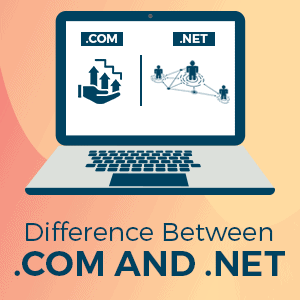 The domain extension is an important part of a website selection as we have already discussed in our previous blog difference between .com and .in. If the domain extension is not suitable, it won't help your site to scale better.
Like mentioned in our previous blog on .COM and .IN, the .COM extension is the most common domain extension as it's generic and wildly used. .NET extension, on the other hand, is ideal for network-related sites like email and the internet.
If you are planning to start a website and are confused regarding the .COM and .NET extensions, then you must be well aware of the difference between the two. So, here is a brief on the difference between .COM and .NET.
Also, read this BigRock review to know why it is the best domain name registrar in India and register a domain today!
Which Should You Choose – .COM or .NET?
With a host of domain extensions available, selecting the right one can become a difficult task. While picking an extension, you need to consider its purpose, the recall value as well as other benefits and pitfalls. Your choice of domain extension can also affect your site's ranking as well as web traffic. Thus, research is important and if you have narrowed down your choice to .COM and .NET, then here is a quick overview of the difference between these two.
The purpose of the .COM extension is directly linked to commercial business. All over the world, .COM is mainly used for websites to establish new branding for the business.
The .COM extension is also widely used if you need to market your brand or business.
When you give your visiting card to any new customer, the first thing that catches the eye is the extension name used on the website.Most potential or new clients will trust your website or business with a .COM extension. So, it has a universal appeal as compared to the .NET extension.
Talking about the .NET extension, its primarily used by all the network organizations. The .NET extension is often used in umbrella sites, mostly with the network of small websites.
Web hosting companies or companies that are involved in the infrastructure of the internet use .NET extension.
Sometimes new users also choose .NET as an information extension. If it is just to put across information through a website then .NET can be used. Many intranet websites also use the .NET extension.
The extension .NET is not feasible for commercial purposes or if you are looking for monetary gains, then .NET may not be suitable.
Verdict: The extension .COM is best suited for all the websites; be in professional, brand, or blogging. But, .NET is more suited for companies that are into networking.

2. Availability
The .COM extension is suitable for commercially viable sites, tough its availability depends on the web hosting companies. Most new websites opt for .COM extension as it offers more credibility compared to .NET. Read this BigRock vs GoDaddy hosting comparison review to know which is the best domain name registrar.
Most premium business brands and sites prefer .COM as compared to the extension .NET, as it has a professional connection that is missing in other available extensions.
Getting a .COM extension also depends on the hosting plan you choose. Most premium plans come with a free .COM extension. Given the high demand for .COM extension, you may also have to wait to get it for your company name or website.
If .COM extension is not available, then people may choose alternatives like .IN, .NET and .CO.
.NET is mostly used by online technology companies when .COM is not available. Some website owners also consider .NET when other extensions are not available.
Most web hosting companies offer the .NET extension and that too at a feasible cost. As compared to .COM, .NET is available for cheap.
Verdict:
Availability wise, .NET is widely available, while .COM is also available but with higher and premium plans. Availability also depends on web hosting companies and the plans they offer. Check out the list of domain extensions available on BigRock and make use of the
BigRock domain coupons
to purchase it at a discounted price.
3. Search Engine Optimization
A domain extension plays a big role in search engine optimization. If you want your website to rank better in the search results, then the .COM extension is the most viable option.
According to Google search engine optimization policy, websites with .COM extension fares better in search results. Not only search, but .COM extension websites can also be highly customized for SEO.
The .COM extension can help your website to rank better in global search results as it is based on GTLD.
If you compare .COM and .NET extension, then .COM extension is best suited for sites that are looking to increase traffic and want to grow in the future.
The .NET extension mostly targets users who are interested in technology and networking.
SEO is all about achieving the right target. So, if you have set a target in search engine ranking or traffic, then .NET will not provide you with the required results as .COM extension is still the most preferred extension for SEO.
Verdict: If you are looking to increase your website rank and want to optimize your site using SEO, then the .COM extension is the most preferred one. The .NET extension may not provide you with the SEO success or commercial success you are looking for in the long run.

4. Getting a Domain
As .COM domain name extension is generic, it is easier to get the domain extension through various web hosting providers. With BigRock, as mentioned above, you can use BigRock coupon to buy a domain at a cheaper price.
Most bloggers/website owners choose the .COM option for WordPress as its easier for third party hosting. Simply log on to the web hosting company's site and choose .COM extension. You'll have to pay for the extension depending on your plan.
Likewise. getting a .NET domain name is also easy. Here is how you can register a domain name at BigRock.
Verdict: Both the extensions work on country codes, so the choice depends on the user or registrars of the domain name. It also depends on the kind of business or niche.
The recall value of the extension is the most important point of difference between .COM and .NET. When a person reads the name of a website and types in the address bar, it is mostly .COM.
If the website extension is .NET and the person types .COM, it may lead to frustration, so the .COM extension certainly has a better recall value.
People hardly remember websites that have the .NET extension unless there needs to be a long-term association with the website.
The basic notion is that all websites have a .COM extension, which is not true. But, people seem to pay heed to only one extension as its the generic one.
Have you ever noticed that keyboards also have a .COM extension key? You will rarely notice .NET, .ORG or any other extension on the keyboard.
Verdict: The recall value that .COM offers is better compared to .NET, as people won't remember a .NET website extension unless it is written somewhere.
6. Benefits and Pitfalls
Whether the website with a .COM extension is to sell a product or simply to promote services, its indeed the best and most trusted domain extension.
With .COM extension, there won't be any confusion regarding the web address. Most people type in .COM with the website name, so it does provide flexibility to potential clients.
The only issue with the .COM extension is finding the perfect domain name, as more than half of the websites have a .COM extension.
Also, its time consuming and expensive to buy an already existing domain name from the owner.
Talking about .NET extension, there are only a few websites with .NET, so you'll be able to get a domain name you want.
The only issue with the .NET website is, you'll need to promote it harder to compete with regular .COM websites. You'll have to consider traffic, SEO, and other tools so that it fares better compared .COM.
Verdict: The .COM extension has more benefits than pitfalls. The extension .NET also has many benefits, but the only issue is concerning promotion.
Most new users or professionals will find the .COM extension a better choice. It is not only more credible but its also more scalable compared to .NET extension. Only business organizations with a technology background or internet may opt for .NET extension.
If you are looking to register a domain name extension, then evaluate various pros and cons, as by choosing the best extension, you'll have a web address that is more unique and fitting for your business. Also, click here to learn why domain name renewal is important.
Once you decide on the domain extension, the next step is to choose a web hosting plan. If you are looking for a reliable web hosting provider, then you can't go wrong with BigRock. And if you want to purchase hosting from BigRock, then here are BigRock hosting coupon that you can use.