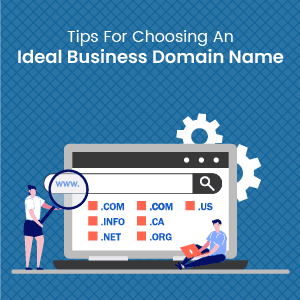 A business domain name is entwined with a brand's identity. Often when an entrepreneur decides to take their business online, they choose the existing brand name to create a website, which is the best practice for finding relevant, professional, and niche-centric business domain names.
There are quite a few other aspects of choosing the right business domain name. It should be unique, simple, memorable, easy to pronounce and spell, keyword relevant, and flexible. Let us elaborate on each of these tips to guide you in the process of finding the right domain name for your organisation.
Before that, let's take a quick look at a few things you should know while purchasing a domain. Also, make the most of BigRock's 99 Rs Domain Offers to register a business domain now!
HOSTING
Click To Copy & Apply Coupon
How to choose a business domain name?
There are many things one has to consider to find the ideal business domain name. A domain name needs to be simple and easy to remember. It needs to be niche-specific and keyword relevant. It also needs to be flexible to accommodate expanding services and have the right domain extension. While selecting a domain name, avoid special characters and long domain names that could be misspelt. To find the ideal domain name for your business/brand, you could also use domain name generator tools.
Things to Consider While Purchasing a Domain Name
When you visit a domain name service provider, you are awarded plenty of freebies. Some domain service providers offer their customers free privacy protection, while others make you pay extra for the same.
Apart from the additional security, consider the long-term costs of the domain and added services. Technically, you aren't purchasing the domain as a one-time deal. You are just renting it for a few years. Once the subscription ends, you have to renew it again.
Also, ensure that the domain hosting service provider you use has clear guidelines that can help you with domain transfer in future.
A reputed domain service provider usually includes definite instructions on how to activate your website's subdomains.
1. Keep the Business Domain Short and Professional
You might be tempted to play with words and come up with a clever yet long domain name. But, no matter how meaningful, you should avoid picking a long domain name.
Do you know the world's longest domain name?
It is: llanfairpwllgwyngyllgogerychwyrndrobwllllantysiliogogogoch.co.uk

The domain name is the name of a village in Anglesey, Wales. What are the chances that your audience will remember a name that complex or that long?
If you still go that route, imagine the typos and your potential customer's frustration about not being able to find the website! And let's not forget other websites are already ranking for these keywords. So, focus on finding something more suitable for your brand but not very on the nose. Keep it short and professional. It is another aspect of your brand identity.
Suppose someone owns a website named:
wendyandpetesclosetsalesbusinessinrajasthanindia.com

Consider the tough spot the owner's going to be in when asked for website details. They'll have to pronounce it all, and even then, people are likely to forget it quite soon.
2. Pick a Memorable and Catchy Domain Name
Think of all the social media websites you know now. Remember when you were unaware of Facebook, Instagram, Twitter, and Quora?
These names are very catchy and easy to remember and stay true to their brand.
Instagram: Combines Instant Camera and Telegram
Facebook: The name Facebook comes from an American university book, which had pictures and names of university students. This book is known as FaceBook.
Twitter: The meaning of world Twitter (noun) is a series of short, high-pitched calls or sounds. The social media platform was appropriately named so.
Quora: A question and answer platform that has abbreviated 'Question or Answers" to create the brand and domain name.
If you are already an owner of a catchy and memorable brand name, you can get a business domain name for it.
Your business domain name needs to be unique. Whenever someone speaks about it, there should be no doubts about the purpose of your business or services in the minds of your audience.

3. Pick an Accurate Domain Extensions
When registering a domain name, you need to pick an appropriate domain extension. In India, the three commonly used domain extensions are .com, .org, and in.
.com: It is a top-level domain name extension for commercial businesses
.in: It is a top-level domain name extension for India. Similarly, different countries have their own unique domain name extensions
.org: It stands for organisations, generally for non-profit organisations
Here are a few other well-known extensions suitable for specific businesses, organisations, and institutions.
As you can see, you can find an appropriate domain extension for your brand industry.
Refer to Wikipedia's domain extensions list for an extensive list of all top-level domains.
3.1 Safeguard your brand by getting multiple domain extensions
Amazon, one of the leading shopping portals, has safeguarded its brand in more than one way. The name 'Amazon' is trademarked. So, anyone other than Amazon using it can face legal actions.
And second, it has purchased multiple country-specific domains. You can do the same for your brand and protect its reputation. It will also keep your competitors from buying these domains and benefit from your website traffic. If your budget allows for it, you should also consider getting a few mistyped versions of your domain.

4. Avoid Choosing Difficult to Pronounce or Spell Names
Pick a simple business domain
Simplicity is the key to choosing the right business domain name. Avoid picking a complex name like: Gorillatravellingsafaris.com

Notice how the domain name uses the word gorilla and travelling. Both have a repetition of the word 'L', and people are likely to mistype the name.
Choose an easy to pronounce and spell business domain
A business domain name should be crisp and clear to pronounce and write. Despite joining the digital era, we still depend on traditional word-of-the-mouth advertising.
People should be able to grasp the name of your brand and domain name quickly. They shouldn't flounder and ask about it more than once. People are more likely to visit a business domain name that is easy to pronounce. It will also increase the chances of visitors sharing your domain name with their networks.
Avoid using numbers and charactersn
It may seem like a great idea to use a number or a character to stand out, but it is a risky gamble. Names that include characters and numbers are often misunderstood and not easily remembered.
But if you happen to own a brand name that features characters and numbers, then purchase the mistyped domain versions as well. You can redirect them to your websites and not lose any customers or clients.
5. Avoid Names That Might Harm Your Brand's Image
Business domain names should be highly professional and chosen after careful consideration to avoid making mistakes that would damage your brand image.
Here are a few examples of inappropriate domain names that your audience might find unappealing.

The name itself is very catchy and memorable, it might also appeal to a certain audience with dark humour, but unfortunately, something like that could hurt your business.

The domain name is supposed to be read as 'mp3s hit'. When you read it as a whole, it is easy to misinterpret it as 'mp3 shits.' If customers think you have overlooked this flaw, they will not have much confidence in your services.

Instead of the words 'Choose Spain', visitors are probably going to interpret it as 'Chooses Pain'.
6. Focus on Keywords and choose a Niche Specific Name
In a bid to understand the types of services your business provides, the search engine uses your business domain name. A relevant domain name is one of the ranking factors on Google.
If your domain name is created by combining two or more words, make sure they are relevant to your brand image. The domain is a representation of your website and brand.
You can also purchase extensions that are more relevant to the services you provide.

7. Make if Flexible to Accommodate Expanding Services
Many entrepreneurs have a clear idea of the vision and the scope of their business. Some plan to build a single sustainable product that continues to add new features, while others are interested in branching out.
So, consider your business requirements and long-term plans before you settle on a domain name that might not be relevant to all your products and services.
Amazon.com started as an online bookseller, and it has one of the most popular online shopping websites. Since the name Amazon was chosen because it means exotic and different, even after all these years, it still remains relevant. The trick is to choose a domain name that ages well.
8. Use Appropriate Domain Name Tools
Use Domain Service Providers (Eg: BigRock)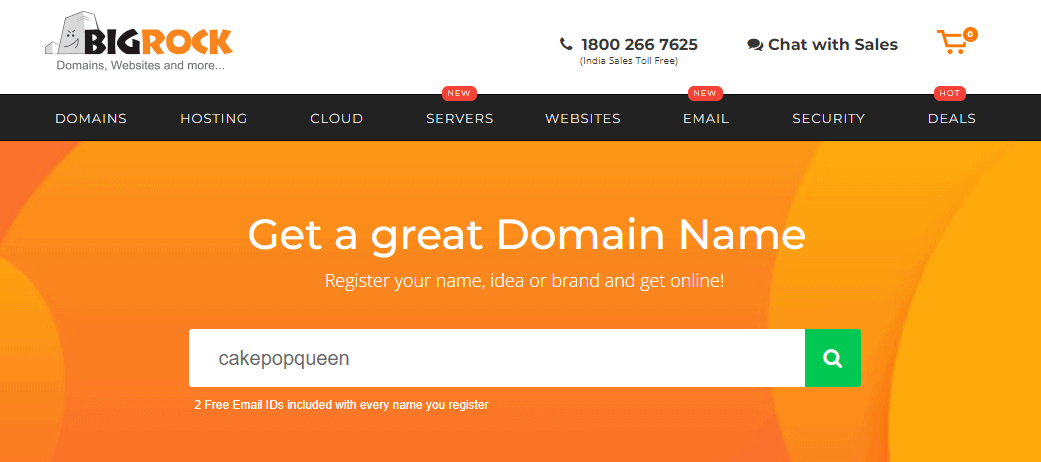 With domain service providers like BigRock, you can enter the preferred business domain name in the search field and then hit enter. It will populate a list of available domains with prices.
At the time search, the following cakepopqueen domains were available for purchase: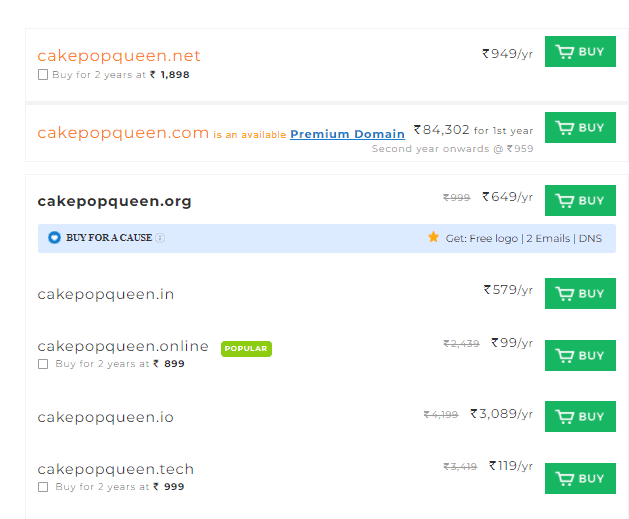 Some domain name service providers end-up costing you more than you bargained for, but you can always look for domain coupons to get a discount on the domain.
Domize Domain Availability Checker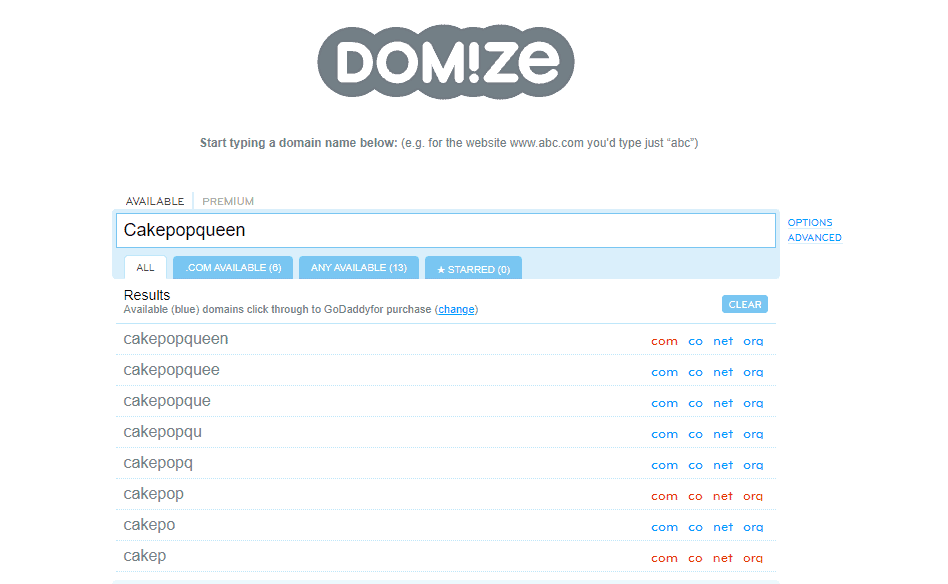 Type in your domain name to check for its availability. When we searched cakepopqueen domains, we found that cakepopqueen.com was already taken, but .co, .net and .org were available for purchase.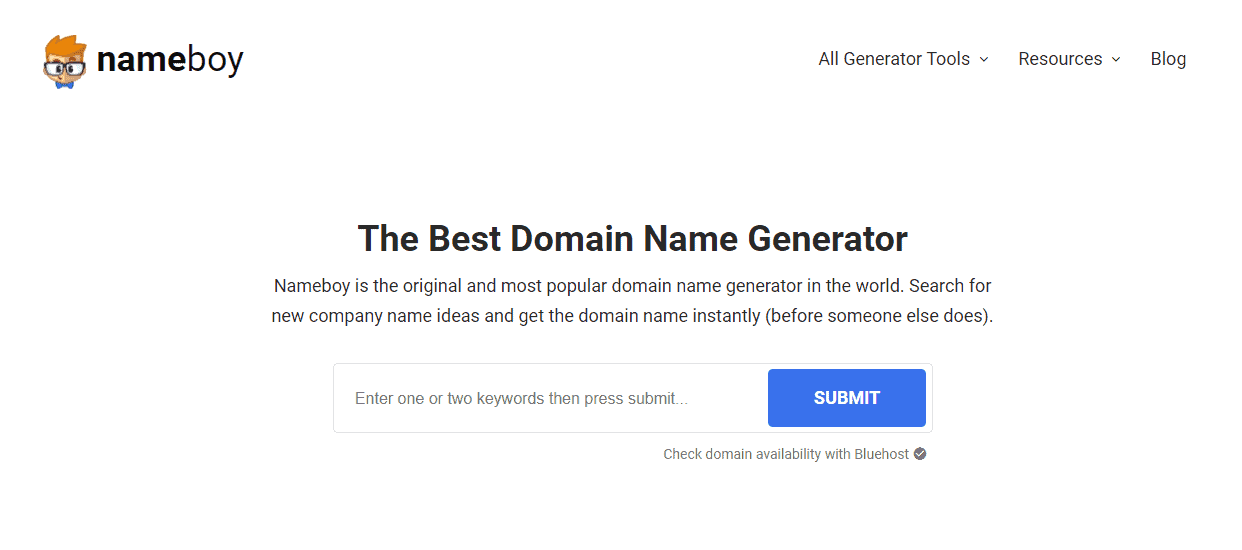 Once you hit enter, it will take a few seconds for the results to show up. Select the Generator options from the Showing section to see name suggestions for the keyword you entered.

We entered the word Bristo and got the following domain names: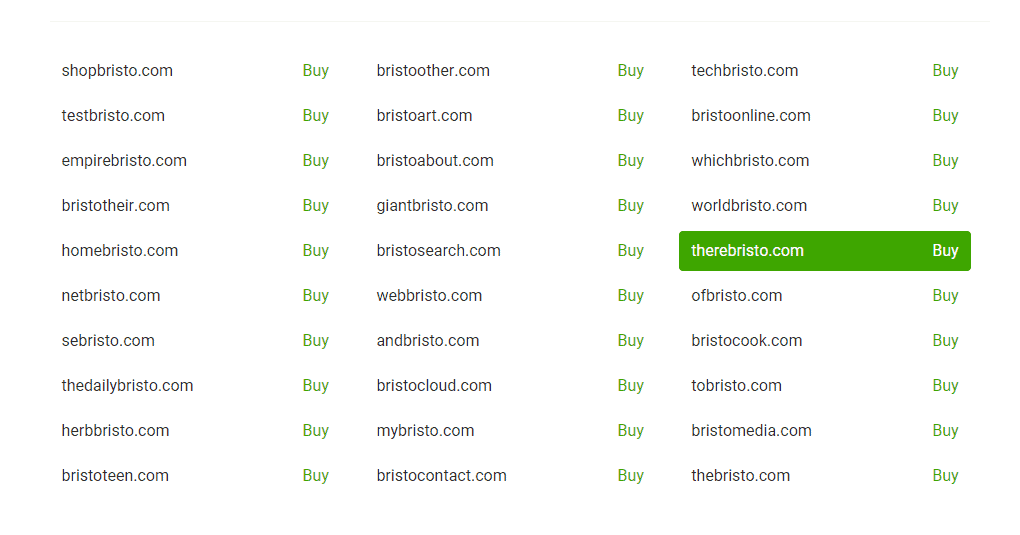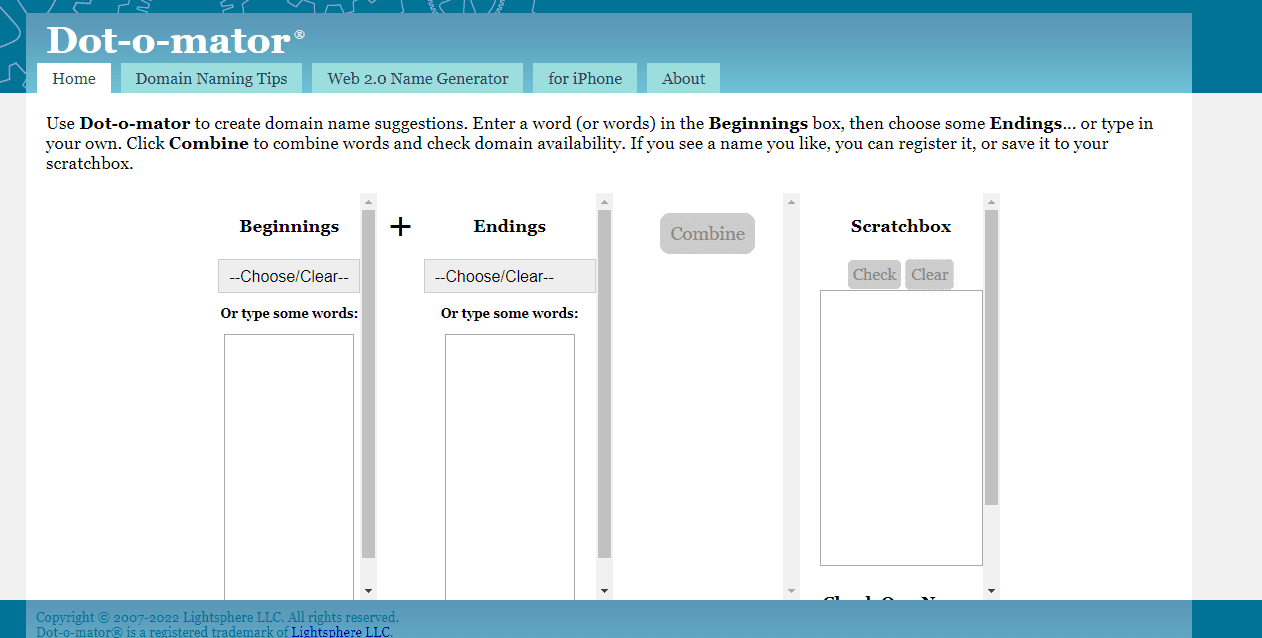 It is another domain name generator that allows you to select two words from the predetermined list and combines the two you picked to generate a list of available domain names.
Suppose if you choose the following combination: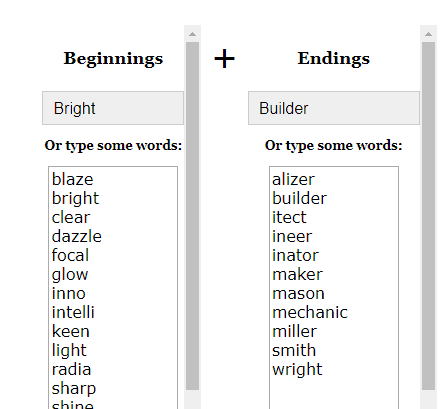 The result shows domain names that aren't already taken. Here is a list of possible results: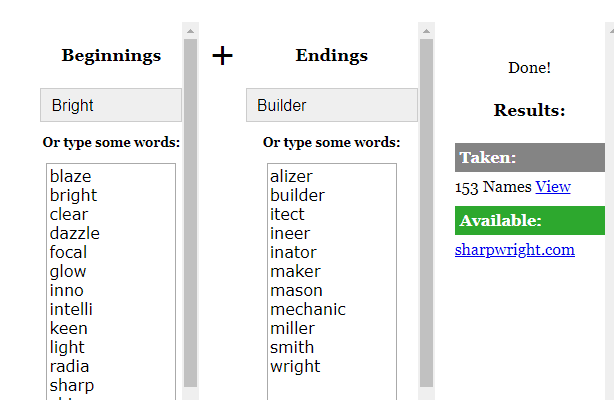 There are plenty of other domain name tools that can help you narrow down your search and find the domain name befitting your business. But the majority of them will likely provide services similar to BigRock, Domize, Nameboy, and Dottomator.
As long as you follow each of the tips, you should be able to come up with a flexible and catchy domain name relevant to your brand's image.