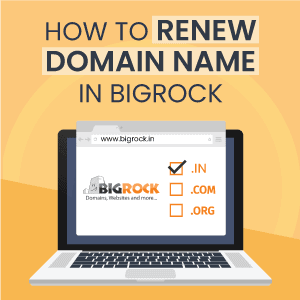 BigRock web hosting company was founded in 2010 and is a leading provider of hosting and domain services. The company provides a range of features that includes domain hosting, email hosting, and website hosting.
It also offers value-added services apart from various hosting plans. BigRock provides affordable hosting solutions that suit every business need. With domain registration, you'll be able to register and transfer your domain.
With domain extension services, you can get access to a host of domains including .net, .in, .biz, and .com. The company also offers different hosting solutions that include WordPress, Linux, Windows, eCommerce, and Reseller hosting. Read this BigRock review to learn more.
If you have registered a domain name on BigRock, then you need to know the renewal process.
HOSTING
Click To Copy & Apply Coupon
What's the Process of Renewing a Domain Name on BigRock?
As one of the top domain name registrars in India, BigRock makes the process of registering, and renewing a domain name easier. You can purchase a domain for as low as ₹99 with BigRock domain coupon. To renew a domain, all you need is access to your BigRock control panel. However, to better understand the entire process, here is a beginner's guide that explains the BigRock domain renewal process in simple words along with screenshots.
A. What is a Domain Name?
A domain name is the name of your website/blog. Using a domain name makes it easier for users to find and access your website on the internet. It is tied-up to a single IP address with special number series. Since it is difficult to remember the particular series of numbers, domain names were created to use instead of IP addresses.
Further reading: How to Register a Domain Name at BigRock
B. BigRock Domain Renewal Process
If you have purchased a custom domain, then it comes with validity. It means that you can use the domain for a limited time after which the domain will be expired. You'll have to renew your domain name for it to continue working. Before the domain expires, BigRock will notify you via mail or SMS.
Read: What Happens If BigRock Domain Names Expire
Step 1: Visit the BigRock website and find the login page. Log into your account with your registered email and password.
Step 2: After you log in, you'll see a list of orders page. This is mainly divided into two different parts - Search options and a List of orders. To find your domain name from the search option, simply type your domain name in the text box that is right under the search option.
Step 3: Click on the search button on the left sidebar. In the list, only your domain name will be visible. You need to tick the check box that is on the left side of the domain name. The renew icon will be enabled and turn green.
In BigRock, there is no Renewal button, but there is a symbol. Click on the symbol or icon to start with the renewal process of your selected domain.
Step 4: After you click on the renew icon, there'll be a new page that will appear called bulk renewal summary. It gives you an option to choose how many years you want to renew your domain for.
If you want to renew your domain for the next two years, choose the two-year option from the drop-down list. It is below the renewal term.
You'll find the complete bulk order detail on the right side of the page, where you'll get to see the details of the final amount and tax. Recheck everything written in this space.
Step 5: After you click the renewal option, you'll be redirected to the payment information page. On the payment information page, all the details of your order will be provided - transaction details, the renewal time, and the final amount.
Step 6: Choose a payment mode from the drop-down menu. The most feasible option for payment is net banking and debit card. You can find the 'pay online option' on the page and continue to the next.
You can also apply the BigRock coupon code for domain renewal. For making payment, enter your coupon code and click on apply. After you apply the coupon code, you'll get the option to select the bank details.
For net banking, select your bank from the drop-down list. After you select the bank, click on the make payment option.
On the account page, after you confirm, you'll be asked to enter the OTP that the bank sends to your registered mobile number. After entering the password and OTP, click on the confirm button.
Check if your BigRock domain renewal date is due. If it is, then do renew your domain name today. You certainly don't want your domain to expire because of non-renewal, right. So, follow the above steps and renew your domain effortlessly.