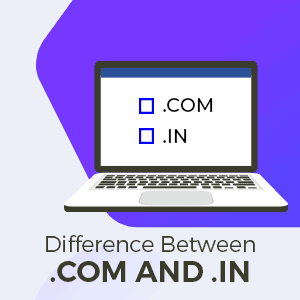 Do you know that a domain extension is the base of your website and choosing the wrong domain extension can affect your site traffic? That's right! Thus, doing research is important when selecting a domain extension for your website/blog.
If you need to start a blog, then you can choose common extensions. And if the blog is for an organization, then .ORG is a good option. Similarly, if your website is business-related then .COM and .IN are popular choices.
Apart from this, the geographical area that you stay in also matters. There are more than 200 different country code TDL'S, so you need to find an extension that matches up with your location. Extensions are also based on the names of countries in this case.
Search engine optimization also plays an important role when you are looking for an extension. There are chances that a .COM site would still rank the best in SEO.
For a universal appeal or global reach, people choose .COM extension. And .IN stands for India, so most Indian websites choose this extension for localizing their business. But, its appeal is somewhat similar so the choice becomes tough.
Which Domain Extension is Better – .COM or .IN?
Picking the right domain is important, as it can break or make your website. Apart from selecting a relevant domain name, you also need to pick the correct domain extension. Both .COM and .IN are used for commercial sites.
Most professional artists also use .COM and .IN for their websites. However, which is better, depends on individual niche or business. Thus, to help you decide here is an article the explains the benefits of .COM and .IN domain extension. Read through this, and to book a domain make use of BigRock domain coupon.
Difference Between .COM and .IN
As discussed before in our blog post difference between .COM and .NET, almost every website in the web space that you visit has a .COM extension. So, it has a universal appeal compared to .IN. Also, talking about popularity, .COM is way more popular than .IN, as almost every second site on the internet has a .COM extension.
You might have noticed that there is a keyword shortcut of .COM on your phone. With .COM there are many auto insert options as well. Most browsers also provide a keyboard shortcut to add .COM when you type it in the address bar.
According to Statista, about 50.9% of websites use .COM extension. So many investors and companies still pay a higher rate for getting a .COM extension.
On the other hand, .IN extension is popular in India. Many local brands and business sites use .IN extension for their site. If the business is based in India, then .IN is definitely the most feasible option.
Verdict: The extension .COM has a universal appeal as compared to .IN. Premium high-end businesses and brands always go for .COM extension.

2. Credibility
There are more than a thousand active domain extensions available today, but many people are not familiar with new versions. The difference between .COM and .IN lies in the fact that .COM offers better credibility.
When you browse the internet or if you need relevant information about a product or a service, you visit a site. And when the site has a .COM extension, it gives you a sense of credibility. Though, .IN also offers similar credibility.
But .COM offers a more legitimate approach. A .IN website comes across as a site that is associated with Indian brands or services. But .COM comes across as a website that has the best brand credibility.
If you notice the top brands and their websites, you'll never find a .IN extension. Almost all the bigger brands have a .COM extension.
Verdict: Though both .COM and .IN extensions are great for websites, .COM has better credibility compared to .IN.

The .IN extension does not support the WHIOS privacy option. WHOIS means anyone in the world can see who is the registered owner of the .IN domain. You'll also be able to see the details of the email address and phone number of the registered user of .IN.
This can cause a breach of data privacy. With so many hacking attacks in the web space, this may cause some level of vulnerability. Also, if you provide fake details for .IN extension, then you might lose your domain name or site because of the privacy policy involved.
In contrast to this, .COM allows full privacy protection. When a user registers a .COM extension, it allows a full-blown privacy protection feature. It means that there will be no breach of private data.
Verdict:
If you want a site with complete privacy protection features, then the .COM extension is certainly a better option. The .IN extension may not provide you with complete privacy protection, but again this also depends on the type of
domain registration
company you use.
Read this BigRock review to know why BigRock is the best domain registrar.
4. Country Code
Both the code extensions .COM and .IN can be registered by any person in the world. If anyone wants to register with .IN, that person will be able to do it from any part of the world.
So, there is no restriction on the registration part. However, there is a major difference between the two and that is of the country code. The .IN extension uses a CCTLD country code that stands for country code top-level domain. So, .IN is best used for all the websites that need to target the Indian audience and users.
Whereas .COM uses a gTLD that stands for the generic top-level domain. It means that it can be used for any website with a global reach.
Most new website owners choose an extension based on country codes. If it is for generic, then .COM is selected and if it's for Indians, then normally .IN is selected. Bigger companies normally go for a .COM extension because of its strong appeal.
Verdict: Both the extensions work on country codes, so the choice depends on the user or registrars of the domain name. It also depends on the kind of business or niche.
5. Search Engine Optimization
The .COM extension is not only the most used but also the most valued domain which is why you need to register a domain name with this extension at once. Google is a bit biased towards an extension that has a .COM. A website with a .COM extension will gain more presence in search engines as compared to a website with .IN.
And that is also a prime difference between a .COM and .IN. If you need a website that fulfils your search engine optimization criteria, then the .COM extension is important.
A website with a .COM domain is more popular and powerful than any other domain name extension. SEO is also a reason why most .COM websites are available at a premium price.
SEO marketing is a primary need for your business. If you don't market your site, it'll affect your website reach. With a .IN extension, you might just hinder a chance of a good SEO campaign.
A website that has a .COM extension gets 100% advantage over .IN extension. According to the SEO policy, GTLD ranks higher in a search engine result. So when it ranks better, you'll get better results from the website.
A website with .IN extension also has a good reach, but you need to put in more efforts as far as the SEO marketing campaign is concerned.
6. Establishment
Talking bout establishment .COM is certainly a more established extension than .IN. It's still the number one choice for big brands and start-ups. If you start a new business and your potential customers visit your website, then .COM will make a better impression along with premium hosting. To purchase one, make use of BigRock Coupon.
Also, .COM offers many added features that may not be available with .IN extension or a website. The longevity of a .COM website is noteworthy so it makes a sound impression. Establishment wise .IN is mostly preferred by smaller local brands.
Verdict: .COM offers a better establishment as compared to .IN extension.
Some people believe that the .COM extension has become outdated or old. But this depends on personal preference. For most companies around the world, the .COM extension is still the most preferred one. There may be many extensions with different features available, but the credibility that a .COM extension offers is unmatched.
That is the reason even today a start-up company may prefer a .COM extension as compared to .IN. If you are planning to start a website with a global reach, then .COM is still the best choice for you.
And, if you are planning to start a business locally with limited reach, then .IN is the best choice. Both extensions offer location advantages based on your business niche.
Now, you know the difference between .COM and .IN, so the next time you need to buy a domain extension, you'll be clear of your choice.
Further Reading: How To Enable/Disable Domain Theft Protection in BigRock