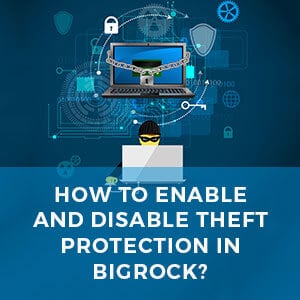 BigRock offers a host of features for domain hosting. From digital certificates, email hosting to privacy protection, the BigRock web hosting company provides easy access to all features so that your site is secured. Read this BigRock review to know more.
BigRock provides a complete suite of products that'll help your website grow and scale better. The enable and disable Theft Protection feature in BigRock can be used according to your expediency. The tool can also disable multiple domains that belong to customers or resellers.
Enabling Theft Protection ensures that your domain remains safe from illegal domain name transfers. With domain name Theft Protection, a transfer request for a domain name to another registrar will fail at the Registry itself and will not be allowed. Also, Theft Protection cannot be disabled or enabled at any level for a suspended domain name.
Check this guide on how to transfer a domain from GoDaddy to BigRock to know more.
How To Enable and Disable Theft Protection in BigRock?
Domain stealing or domain theft is an online threat that business owners should be aware of. In simple words, domain theft refers to the illegal/unauthorized transfer of domain name to another registrar, without your knowledge. Luckily, BigRock offers a default theft protection for all domains. However, for business owners, who want to transfer their domain to another registrar, disabling the theft protection feature is important. Thus, here is everything you need to know about how to enable and disable theft protection in BigRock.
Further reading: How to Renew an Expired Domain Name in BigRock
#Things You Need to Know
Domain registration is simple with BigRock. Search for the required domain name, select the domain extension of your choice and click on purchase to register it. It also provides BigRock domain coupons, which ensures you get an attractive discount.
Upon registering a domain, a lock is placed on your domain because of two main reasons;
1. 60 Days Transfer Lock: As per the ICANN policy, the domain names are locked with the registrar for 60 days from the date of transfer or purchase. During this time, you can't transfer your domain to another registrar. This lock can't be disabled.
2. Theft Protection: A domain name that is registered with BigRock has a lock enabled on it by default, which is called Theft Protection. This is to keep the domain safe from any unauthorized transfer.
A. Disabling/Enabling Theft Protection for a Domain in BigRock
Step 1: Log in to your BigRock cPanel account.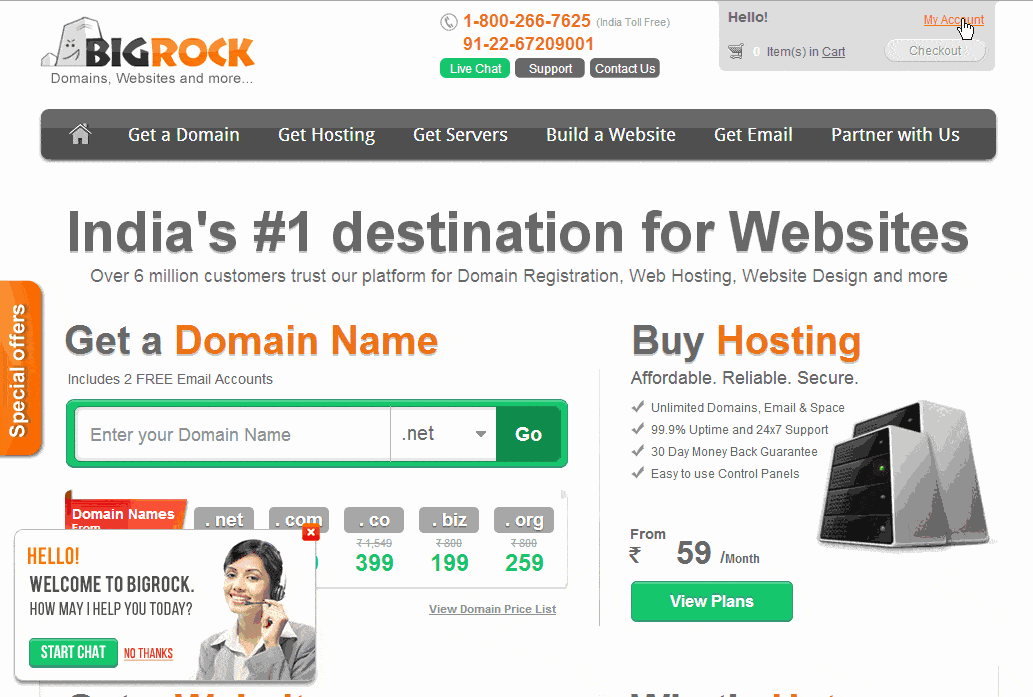 Step 2: You will see a page with all the purchases made by you on the system. Find and click on the domain name for which you need to enable or disable the lock.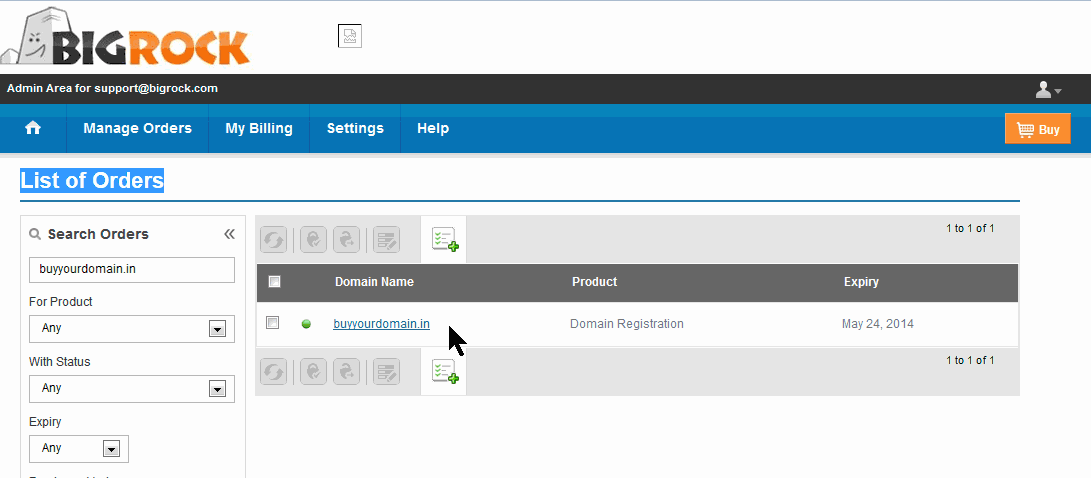 Step 3: Go to the domain registration section and click on the 'Theft Protection' feature. Select disable or enable and click on the button update Theft Protection status.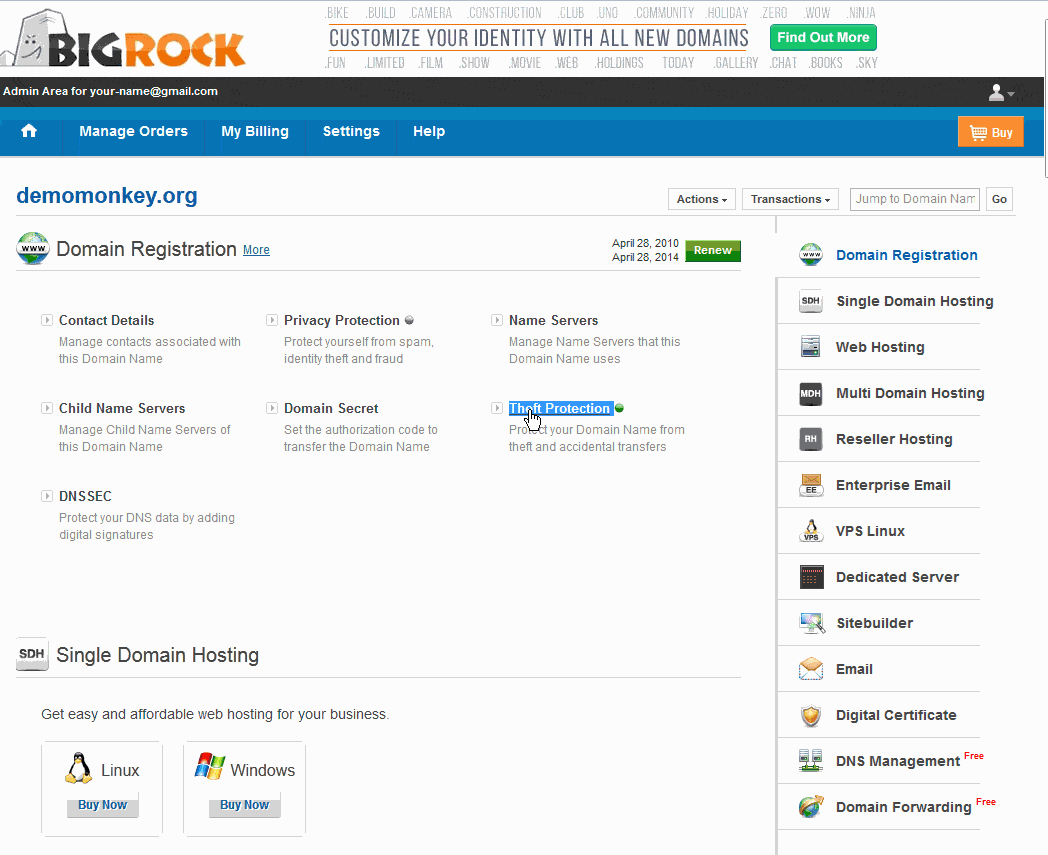 It will take about two hours for the changes to reflect on your account. After two hours, check the status of your domain through Whois.

B. Enabling/Disabling Domain Theft Protection in Bulk in BigRock
Step 1: Log in to your customer control panel and select 'domain names' from the list.
Step 2: In the menu, click on manage orders and search orders, this will show you the list of all available orders. Now, choose the domain names that you wish to enable or disable the Theft Protection for. Finally, click the verification button.
Step 3: Enter the list of domain names and click 'manage orders'. Choose bulk tools and click on bulk Theft Protection. You need to enter the list of domain names or order IDS. It lets you mention up to 1000 domain names or order IDS on separate lines.
Step 4: Next, there will be a display of bulk Theft Protection summary view along with several orders in bulk Theft Protection. Click on the enable/disable button to place bulk Theft Protection action. You'll be able to track the bulk Theft Protection action from running a bulk action page.
Most site owners suffer because of illegal domain name transfer. When you use the enable/disable feature of Theft Protection for your domain, it helps your domain to remain safe from all transfers.
The above feature is not available on domain name extensions, there are certain restrictions imposed by the registry. If you wish to have the domain name transferred from BigRock for some reason, you need to disable the Theft Protection and then place a transfer request at the registrar.
Enable 'Green circle' indicates the Theft Protection service has been turned on for your domain. And, disable 'Grey circle' indicates that Theft Protection has been turned off for your domain.
Was this post helpful? Let us know in the comment below and to purchase hosting and domain from BigRock, make use of these BigRock discount coupons.