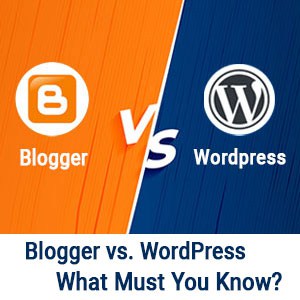 Making the decision to start a blog or website is only the initial step of the process. One of the key steps to starting a website is choosing the platform for publishing content. That's where platforms such as WordPress and Blogger come in. These are two of the widely used blog platforms online.
The advanced solutions offered by these platforms help you achieve your writing goals & publish content consistently. They can also help you understand the topics and posts that are doing well with your audience. They offer you an insight into what your readers like and the kind of content they are interested in. You can use these insights to plan a content strategy that will continue attracting your target audience. Both Blogger and WordPress offer unique tools that can help you in your endeavour of publishing a successful blog or website. So, which do you think is better: WordPress or Blogger ?
A ) Blogger vs. WordPress | Which is better?
The answer to the question of which one is better, blogger or WordPress, is quite debatable and highly dependent on requirements set by the individual or businesses. If you are looking for free features and ease of SEO optimization, Blogger is the way to go. However, if you are looking for advanced features and multiple customization options, WordPress will be a better choice.  Comparing factors such as SEO, Domain, Monetization, Themes, Storage, mobile blogging experience, and video upload feature, both blogger and WordPress offer unique features that can help your website and endeavour succeed.
Before you dig into the difference between blogger and wordpress, ask yourself a few important questions.
B ) Questions To Ask Yourself Before Deciding Between WordPress and Blogger
1. What Type Of Website Are You Going To Create?
Typically, there are four types of websites that users create, a personal blog, a professional blog, a portfolio, or a business website?  Each of these websites have a different set of requirements. Note down everything you require on your website and choose the platform that best serves your needs.
2. Are You Looking For A Free Or Professional Website?
Blogging for many people is a business venture. And, like every business requires some initial investment, you'll also need to put in some investment to create a lucrative blog. These investments could be for hosting or domain name.
On the other hand, you can also make a free site. But the free platforms have a set of  limitations that can hold you back. What's more, as your site grows,  you will have to switch to a payment model especially since most free platforms only allow limited storage.
3. Are you in it for the long term?
Free platforms are great if you want to understand how the platforms work. Some of the premium platforms also offer a trial period that you can use to create a blog or website for a short term.
However, if you are planning for the future, you need to build a scalable website. Many free platforms are limited by their nature. They offer a limited set of features that cannot be upgraded after a certain point. Meanwhile, paid platforms are continuously adding more features that allow you to scale your website taking it to the next level.
While both of these platforms are quite beneficial, there are few significant differences between the two. Let's take a look at the difference between blogger and WordPress.
C ) WordPress.com vs. Blogger Features
Once you have answered the above questions, you can focus on understanding the differences between WordPress and Bloggers. It can help you decide which is better, WordPress or blogger.
1. SEO
With Blogger, you can find multiple ways to enhance your blog for search engines. You can tweak your permalinks, add keywords to your post and page titles, add headers, improve the alt
text of your pictures, hide pages from searches, etc.
With WordPress, you have an even better choice of SEO features. These SEO-friendly features and plugins help you optimise your website for seo by optimising alt-text, meta descriptions, headings, and custom URLs in your posts and pages. With WordPress, you'll get access to Yoast SEO, and All in One SEO plugins that are commended and recommended by most SEO Experts.

2. Domain Name Registration
With WordPress, you get a free domain for a year with your paid subscription. Even if you already own a domain or got a domain for a steal, you wouldn't be able to register it with wordpress for free. However, you can register your domain with Blogger for free. It is one of the major distinctions between the two. You can also look into getting discounted domain coupons,
especially BigRock's Domain Coupons, which can help you reduce the costs of building a website.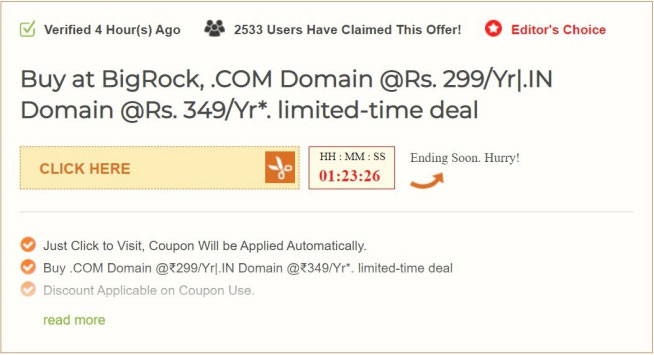 BigRock Coupon is always offering discounted rates for Domain and hosting services. So, if you want to save some bucks, give them a try.
3. Monetization
Between the two services, Blogger is simpler to adapt. AdSense, Google's promotion conveyance system, can be introduced on Blogger with ease. In order to monetize your website
created using WordPress.com, you'll need to use the latest SiteKit plugin from Google. With sitekit, you get access to not only adsense, but also search console, analytics, and pagespeed
insights. So, not only will you be able to monetize your website but also get insights about your website traffic and performance.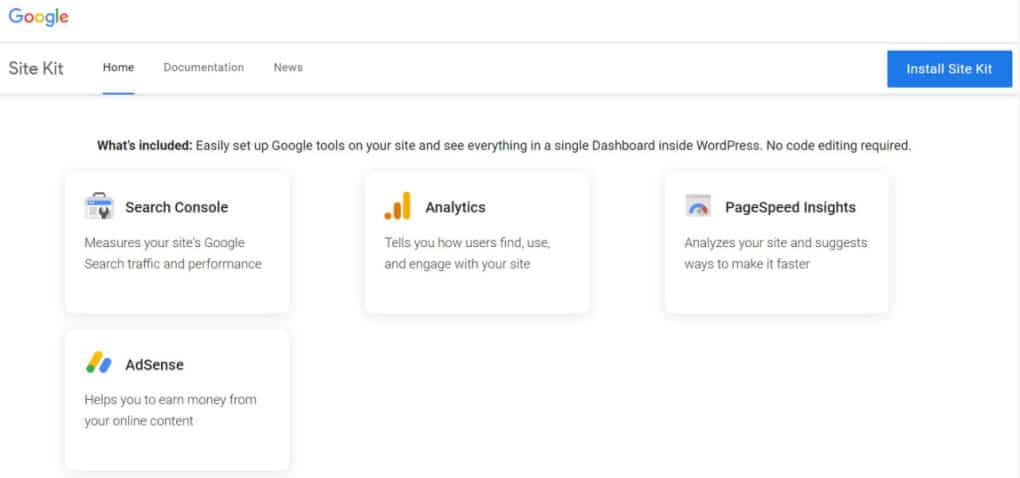 4. Themes/Design
Blogger and WordPress allow clients to tweak their online journals' subject or format plans. Blogger gives clients more control, allowing them to alter a website's HTML and CSS for
nothing. At the same time, WordPress.com charges a yearly expense to access such high-level customization.
4.1 ) Blogger Themes:
Blogger offers a curated list of 12 themes with select variants of each. These theme options may be sufficient for personal or even a professional blog, but it can be a bit difficult to create a
one of a kind business website with such limited options. However, if you have the technical knowledge, you can find and install a free theme template on blogger.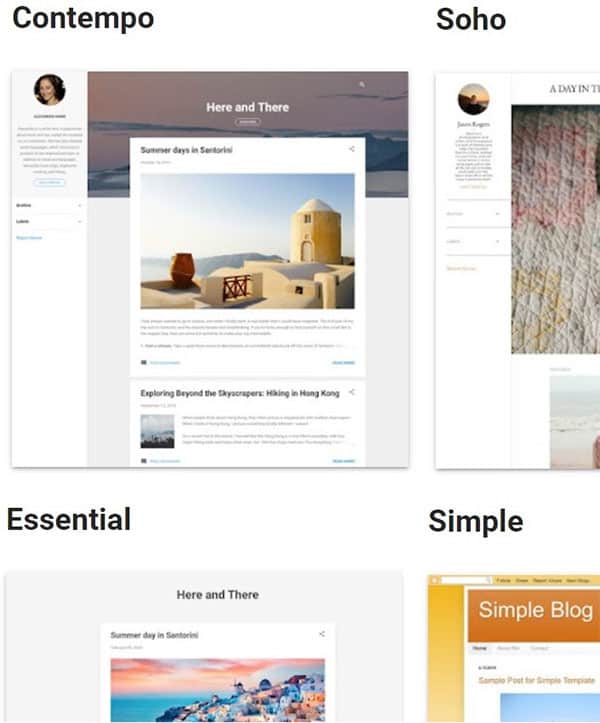 4.2 ) WordPress Themes:
Now, with WordPress, you get access to over 5000 customizable themes that can be tweaked as per your requirements.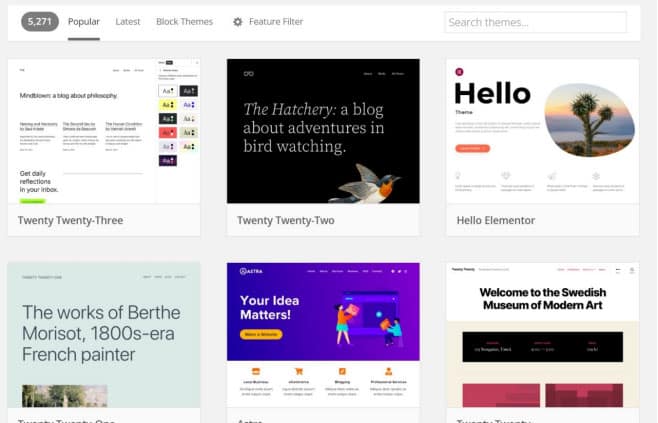 5. Storage Space
With Blogger, clients can make up to 100 separate blog sites, and every one of those can have 100 blog writers and a limitless number of blog posts. Clients are allowed 20 content pages
(e.g., an "About" or "Contact" page). No post or page can surpass 1MB in size.
WordPress.com's free plan sets no boundary for the number of things a blog can have or the number of bloggers that can compose it. However, it offers a limited 1GB storage space. As you
go up the ladder of wordpress pricing plans, the storage increases accordingly.

6. Mobile Blogging
Blogger and WordPress.com allow users to carry on mobile blogging from a smartphone or tablet.
Consider the following ratings for Blogger and WordPress on App store and Play Store: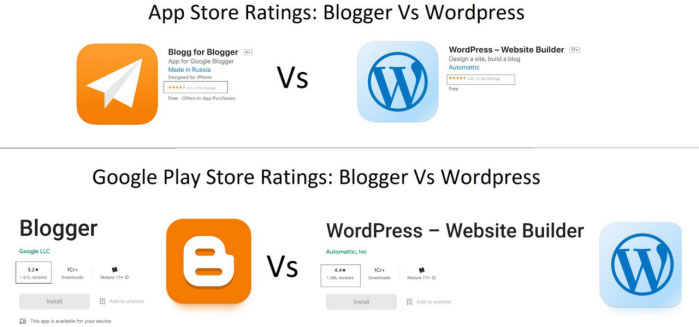 Blogger's iOS application has just a 4.1/5 in App Store contrasted with WordPress.com's 4.6/5-star iOS application.
In Google Play's Android application store, the Blogger Android application gets a 3.2/5, while WordPress.com's Android application gets a 4.4/5.
Based on these ratings, WordPress.com is slightly ahead of the race and offers a better mobile blogging experience.
7. Video Upload Feature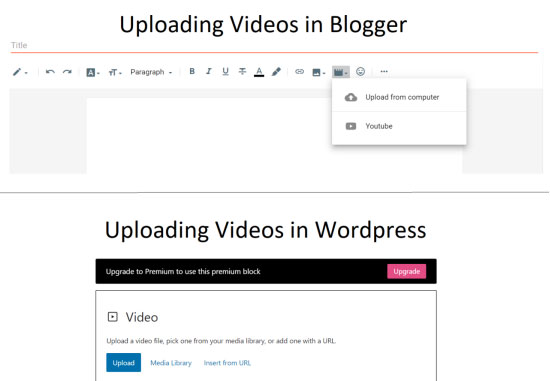 With blogger, creators can use the inbuilt video upload feature for free. In the case of WordPress, creators have to get on a paid subscription to avail the video upload feature. This is
just one example of how the features for bloggers differ from the features for wordpress. You'll find many such differences once you try these platforms. We encourage you to try both of these
platforms before you decide to pick one.
Whether making an individual or business blog, Blogger and WordPress offer one-of-a-kind benefits. Picking a better one depends highly on the needs of the website creator, and they are
the only ones who can accurately evaluate the need. With the right blogging platform, you can reduce the need for customization and ownership.
Now that you have grasped the primary difference between blogger and wordpress, let's take a look at how Weebly fares agasight WordPress with our informative guide  Weebly vs WordPress: Which One To Choose?