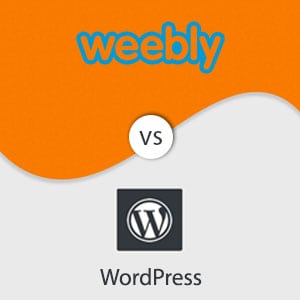 Weebly vs WordPress, which is better, has been a debate for a long time. However, what we can all agree on is both of these platforms make our work easier!
Weebly offers an easy-to-use site-building experience and lets one create professional websites, blogs, online stores, and responsive design sites. WordPress, on the other hand, allows one to host and build websites with its efficient plugin architecture and template system.
It's the best of both worlds served to us in the form of Weebly and WordPress!
So, while choosing either of these two is the first step toward developing your website, it's important to analyse the parameters required to build a fully functional website.
In this article, we will cover the most important metrics that you must consider before choosing either WordPress or Weebly. These include ease of usage, pricing, customisation, customer support and SEO.
HOSTING
Click To Copy & Apply Coupon
Which is Better – WordPress or Weebly?
When it comes to website building platform, WordPress rules the roost with its amazing theme and abundant plugins. Weebly, on the other, is also an excellent platform for newbie professionals, but it comes with a few limitations. These limitations, however, can be tackled by opting for a higher plan (if you have the budget). But, overall, WordPress is the #1 choice for website building, and it is excellent for SEO too.
A. What is Weebly?
Weebly is a site creation tool that impresses users with a simple and clear interface allowing them to build excellent-looking responsive web pages in an easy manner.
Weebly is filled with attractive template designs as well as integrated eCommerce tools. These tools can offer great site-creation flexibility, specifically for mobile sites.
The only drawback with Weebly is that it lacks a universal undo button. Moreover, it doesn't allow the user to re-use uploaded images and has limited theme customisation.
WordPress is the simplest and one of the most popular ways to create a blog or website. Over 43% of all websites on the Internet are powered by WordPress!
If we go into a slightly technical end, WordPress is an open-source content management system licensed under GPLv2. This means anyone can modify and use the WordPress software free of cost.
WordPress allows you to build a website and makes it easy to manage it with its intuitive dashboard. It offers a variety of website themes for different niches. Plus, it offers an array of WordPress plugins that can help you to add more functionality to your website.
Read this BigRock review to learn why BigRock is the best hosting for WordPress websites.

C. Difference Between WordPress and Weebly
1. WordPress and Weebly: Ease to Use
1.1 Weebly Ease to Use
Weebly is simpler to use when compared to WordPress since it is a drag-and-drop website builder. Hence, one doesn't require prior knowledge of HTML to get started on Weebly.com.
With Weebly, you can simply choose a theme and drag &drop text boxes, photos, and other necessary elements into your website.
You can keep the resizing and repositioning of your website elements simple.
You can easily create an account and get to work on your website in minutes, while with WordPress,one needs to go through a set-up before they start building their website.
1.2 WordPress Ease to Use
The WordPress editor is not a drag & drop and visual option like Weebly.
You need to first purchase a website hosting and domain name and then install WordPress. As daunting as it sounds, most good-quality hosts will let you install WordPress with a few clicks.
Next,choose a theme and add essential These plugins let you add functionality to your website, and you can find a plugin for everything - be it a simple contact form or creating an entire eCommerce store.
Use BigRock coupons to buy web hosting and domain at a discounted rate.
2. Weebly vs WordPress: Pricing
Let's compare WordPress and Weebly in terms of pricing.
2.1 Weebly Pricing
The price range of Weebly is between $8 to $25 per month, and these include:
Connect Plan ($5/month)
PROPlan ($12/month)
Business Plan ($25/month)
Is Weebly free? No. However Weebly does offers a free plan for basic use. With this plan, you won't be able to connect your website to your registered domain, and your website will show Weebly ads when accessed.
But, you do get a free domain with all these plans, so there is no Weebly domain cost as such.
Additional features with the PRO plan include:
Password Protection
Site search
Video and Audio in HD
Backgrounds for video
Up to 100 members as well as
Phone support
Additional features and benefits of the Business plan are:
Unlimited members
Registration of membership
Additional eCommerce features like product reviews, inventory management, tax calculator, shipping discount, coupons, and digital goods
In order to extend the functionality of your site, you can access the Weebly App Center, wherein you'll find third-party integrations that you can purchase, and these often come with a monthly fee.
2.2 WordPress Pricing
When you self-host with WordPress.org, you have to shell out a monthly fee for your hosting service. While the exact cost varies depending on the hosting provider, you can find affordable but quality WordPress hosting for as low as ?179/per month. Moreover, you'll have to purchase your domain as well.
Also, if the free WordPress themes are not to your liking, you will have to pay for a premium theme which costs between $30 to $100 or higher.
Get a further discount on hosting and domain by using BigRock hosting coupons and BigRock domain coupons.
3. Weebly or WordPress: Customer Support
When Weebly and WordPress are compared in terms of customer support;
Weebly has a help centre with several help guides. They also provide 24/7 email support and access to phone support and live chat during working Any query you have will be answered at their end quickly.
WordPress has a community forum wherein people can post questions moderated by moderators instead of support staff. This means there is no guarantee that you'll get a sure-shot solution.You can have your way around this by hiring a WordPress coder to help you, but it will require a budget.
4. WordPress vs Weebly: Customisation Options
Let's talk about customisation; the main distinction between Weebly and WordPress is that WordPress is an open-source whereas Weebly isn't.
For the non-tech savvy people, this is what it means:
When you can customise the design of your website on Weebly, you might not be able to modify certain functions or features. Hence, you are confined to doing only what Weebly allows you to do.
On the other hand, WordPress provides the freedom to customise your site as you want. Plus,if you are a coder, the possibility is limitless!
If you aren't a coder, search for a plugin that will do the trick for your website. WordPress is equipped with 56,087 free plugins. In addition, there are over thousand premium plugins. Thus, chances are the plugin that meets your requirements has already been created!
5. WordPress and Weebly: SEO – Which one can help you rank?
Here's a fact: 150,000 websites are created daily.
So, how do you aspire to stand out from the crowd and drive more traffic toward your website? The answer is simple… by working on your Search Engine Optimization (SEO).
When it comes to SEO, there isn't much difference between WordPress and Weebly. If you use WordPress, you'll probably use the Yoast SEO plugin to optimise your meta descriptions, page title, and other important stuff.
Weebly vs WordPress - Which One to Choose?
If you're not a tech geek and want to get your website out there without any hassle, Weebly is the perfect option for you. However, when you choose Weebly, note that you'll be subjected to limited options in comparison to WordPress.
However, if you don't mind learning basic website functions and having full control over the same, choosing WordPress is a wise choice. You can sign up with a hosting company that will look after the installation for you, hence making things easier in terms of technical WordPress set-up.
For instance, if you choose BigRock, you can have WordPress installed with a single click after signing up for the hosting account. While Weebly hosting works a tad bit differently.
In the end, it is all about what you want to achieve with your website and how you want it to look. Use your preferences and criteria to make a decision. Understand the motive behind creating a website for your brand. Also, note that there are multiple things involved while creating a website, and it is not only restricted choosing WordPress or Weebly.