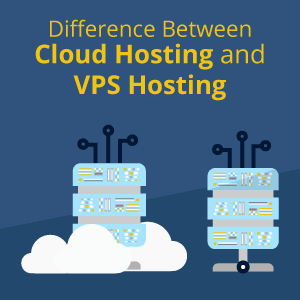 Like we saw in our previous blog post – Cloud vs Shared Hosting – choosing a web-hosting is surely a complicated process. You need to consider the best hosting for your website that provides complete scalability and flexibility.
Web hosting is available for different purposes. Whether you are a professional blogger or owner of a small business company, you need hosting for your website.
Cloud hosting and VPS hosting are the two most popular hosting choices for a website. With the advent of virtualization and remote operations, there is an increase in most of the start-ups and organizations opting for similar solutions. The basic concept is similar in both the hosting servers apart from availability and consistency.
Cloud Hosting vs VPS Hosting – Which to Pick?
With the different hosting types available, picking the right web hosting for your website can be a tough task. If you have narrowed down your choices to Cloud hosting and VPS hosting and not sure which to pick, then reading about the pros and cons of each can help. Cloud hosting offers greater flexibility of resources, while VPS hosting offers the best security. Thus, check out this article to know more about the features of both and its various benefits. And, depending on your website needs and budget, choose the right web host and domain name registration provider.
A. Cloud Hosting and VPS Hosting - Difference Between The Two
Cloud hosting is a collection of multi servers interconnected to each other via one common network. Cloud hosting is not limited to powering different web applications and websites, but it also includes different kinds of storage needs and root access.
Cloud hosting is a great choice for website owners who need complete ease of use of different resources. It is mostly preferred by websites that need to handle a surge in traffic like an eCommerce platform. Websites hosted on the Cloud can be accessed anytime and anywhere.
VPS or Virtual Private Server hosting has a single physical server that is divided into several small virtual servers. Each virtual server has a dedicated server environment and is great for people who are looking for more control over their website.
VPS servers use the virtualization process and offer the best technical features to set up a more customized environment for a perfect website. As a web pro, you get the combination of both Shared hosting and Dedicated hosting through VPS hosting.
B. Pros and Cons of VPS Hosting and Cloud Hosting
1. VPS Hosting vs Cloud Hosting: Performance
VPS hosting offers a fixed level of performance as it works on a guaranteed level of system resources dedicated to virtual servers.
If there is a high demand by your website and another website on the same physical host at the same time, it'll impact the performance of your website.
This also happens when your website needs more than your physical host can provide. VPS server is also vulnerable to a single point of failure. If the physical server fails, all the VPS servers on the machine will fail. However, VPS hosting can be adapted to alternate servers like a Cloud.
Cloud hosting truly stands out in performance because of uptime and high availability, as the hosting works on multiple servers.
If a particular server fails, its files will instantly migrate to the nearest server with no downtime. The memory capacity and CPU power in Cloud hosting also expand based on the demand.
It also meets your website needs without affecting other users in the network.
Cloud hosting is suited for websites that see a sudden surge in traffic volumes, and where there is a need to scale resources based on demand.
Verdict:
Cloud hosting offers better performance as it adjusts according to demand. Want to purchase Cloud Hosting? Make use of
BigRock Coupon
to get a heavy discount!
2. Cloud Hosting vs VPS Hosting: Scalability
VPS hosting offers a limited scaling power depending on the physical host machine available. However, it does provide access to some extra memory and CPU power beyond the virtual machine.
But, the physical host has certain limitations; it can only deliver when there is a requirement. If you need to scale, you'll have to get a new plan with added resources, and the migration to a new VPS hosting plan may result in downtime.
Cloud hosting can add additional capacity in real-time, making it more scalable than VPS hosting. The data storage feature in Cloud hosting is also essentially unlimited.
The entire network of servers in Cloud hosting is ready to be tapped based on traffic surge. It scales low when there is less traffic on the site and scales higher when there is a surge in traffic.
Thus, the seamless availability of endless processing power in Cloud hosting acts as its biggest advantage.
Verdict: Both the hosting servers offer good scalability, but Cloud hosting lets you scale automatically without the need for added resources available.
3. VPS vs Cloud Hosting: Security
The security features of VPS hosting is similar to Dedicated Server hosting. The centralized location of the physical host offers an added security feature to all operations with critical data.
All the locations must be known and restricted to comply with the data security regulations. Also, the higher the VPS hosting plan, the better security it provides.
The security that Cloud hosting provides is quite different from VPS. The server is separated from all the other clients as with the VPS hosting. However, its infrastructure is built in such a way that it makes it more vulnerable to hack attacks.
As Cloud hosting servers are physically distributed, it is hard to secure compared to other servers. Also, with Cloud hosting, the data is secured and stored in many different locations or servers, which makes it difficult to comply with data security.
Verdict:
VPS hosting offers better security features so your website will be well-protected and secured. To buy VPS hosting, use
BigRock hosting coupon
right away!
4. Cloud vs VPS Hosting: Customization
VPS hosting offers similar customization features like Dedicated Server hosting. You'll have full root access and complete control over the OS. You'll be able to configure and customise it as you have a separate server.
Your choice of OS may be limited, as each physical system can run only a single operating system. For this type of hosting, most hosts also prefer the Linux system against the traditional Windows OS.
You'll be able to customize with Cloud hosting as it expands to include the possibility to change the network architecture, load balancing, and firewall support.
Cloud hosting supports both Windows and Linux so you can pick your choice of OS. However, the need to distribute across many servers will leave you with less control over the host settings.
Check out the below hosting comparison articles to know which is the best hosting provider for Cloud and VPS.
Verdict: Cloud hosting offers better customization features than VPS hosting.
5. VPS Hosting or Cloud Hosting: Cost
VPS hosting suits every budget. As it works on limited scalability and guaranteed server resources, the cost is less. The cost also depends on the plans and management support you choose.
Cloud hosting costs more than VPS hosting because you are paying for networking and hardware. Cloud hosting takes into account the 'Pay as you use' method. This means that the more resources you use, the higher the cost of the server.
Both Cloud hosting and VPS hosting offers great web hosting features. But, it is important to choose a plan based on your need. Cloud hosting is better for sites with high website traffic, and VPS is a good choice for mid-sized and large businesses.
Want to purchase a domain along with web hosting? Here are a few BigRock domain coupon that'll get you the best deal!