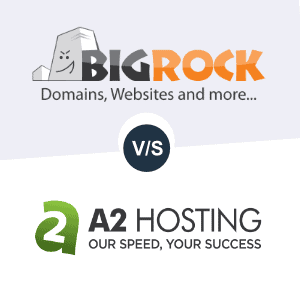 If you are planning to launch your new website, then it is important to put extra consideration on which hosting to get. Your hosting partner provides the server on which your website will run. As such, it is very important to pick the right hosting provider, so your website runs smoothly.
However, with tons of hosting companies to choose from, it can get confusing while deciding which one to pick. We have already written a host of review articles like BigRock vs Bluehost India and BigRock vs GoDaddy. As such, today we have put together a quick read showcasing BigRock vs A2Hosting, to find which one better suits your needs and requirements.
BigRock vs A2Hosting – Who Is The Best?
Both BigRock and A2Hosting are powerful, affordably priced hosting solutions targeted at small businesses and professionals. However, there is a difference in terms of pricing and the features you get with each hosting provider.
Now, there is no need to pay extra to get features that you won't use. Similarly, you don't want to pick the cheaper hosting and compromise on site performance. This is why we have put together this BigRock vs A2Hosting review to help you find the perfect hosting partner for your website.
1. BigRock vs A2Hosting Review – General Overview
General Overview Of BigRock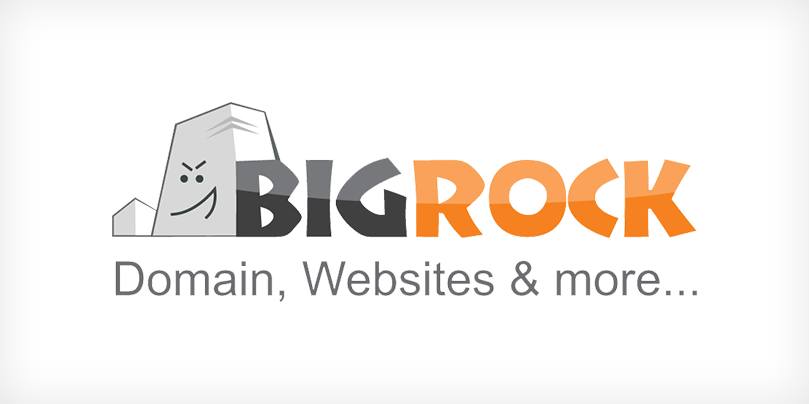 BigRock is an ICANN accredited company that has been providing web solutions for small businesses since 2010. Over the years, they have created a large user-base and currently powers over 6 million domains.
Their services include access to a wide variety of hosting options, domain registration, dedicated eCommerce solutions, powerful email functionality, and much more. Click here to learn more about BigRock.
General Overview Of A2Hosting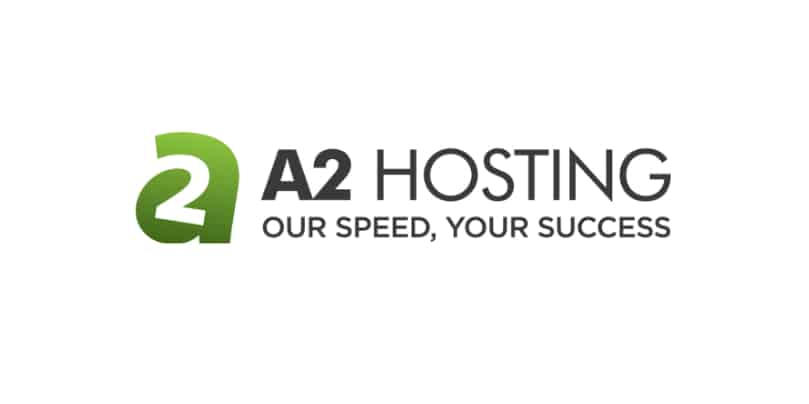 A2Hosting started way back in 2001 and has gained a solid reputation, thanks to its super-fast servers. Run by a team of technically sound professionals, their customer service is also top-notch and provides completely managed hosting solutions.
If you are just starting, their Shared web hosting plans are reasonably priced. And for growing and medium-sized businesses, the company offers scalable VPS hosting, Reseller hosting, and Dedicated Hosting solutions.
2. BigRock and A2Hosting - Types of Hosting
Types of Hosting Offered By BigRock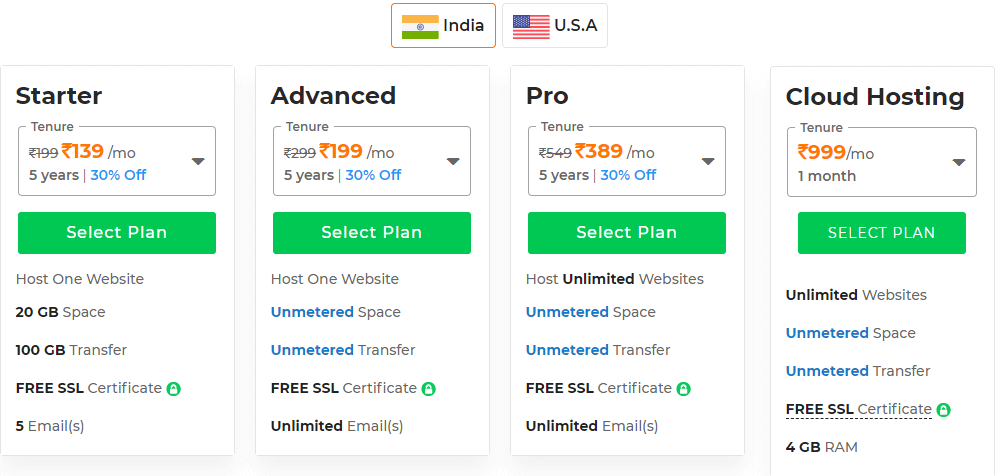 With BigRock, you can sign up for Shared hosting, VPS hosting, Dedicated Servers, and even Reseller Hosting. The pricing is very affordable, and it packs in all industry-standard features.
They also offer specialized hosting solutions for many of the popular CMS like WordPress, Drupal, Joomla, and others which comes with additional features specific to the CMS you are using.
There is also an option for eCommerce hosting, which gives you the option to build your site using tools like Zencart, osCommerce, and others. Check out these top eCommerce platforms. For further information on eCommerce hosting, check out this in-depth review about BigRock web hosting.
Types of Hosting Offered By A2Hosting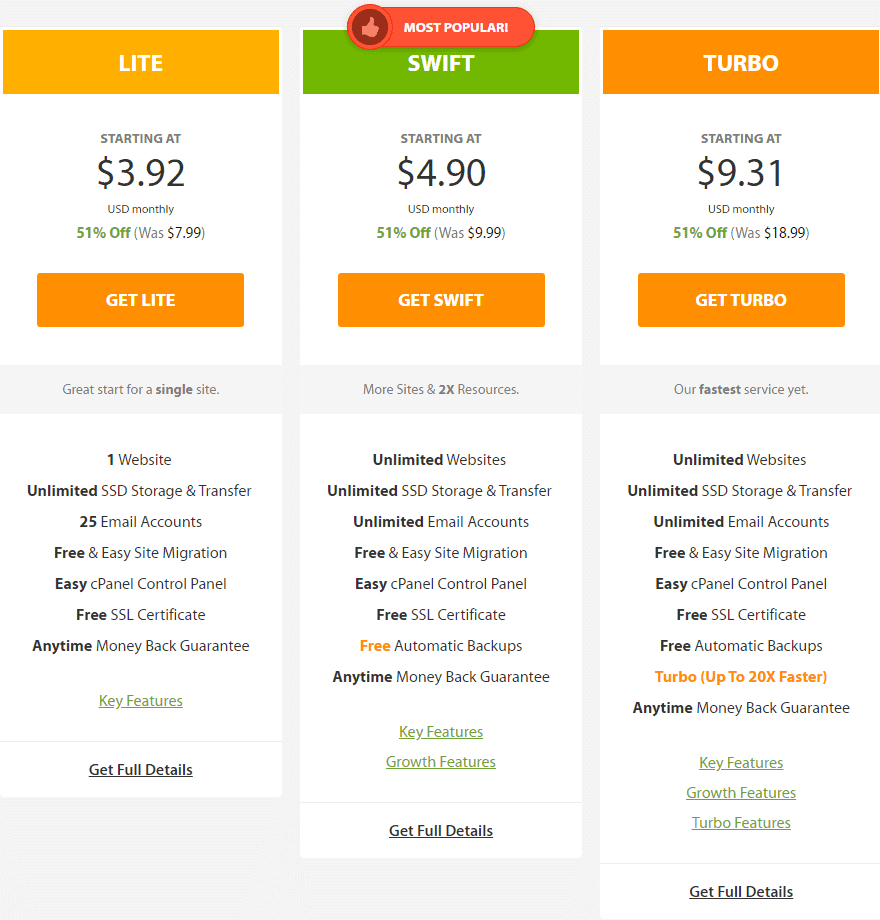 A2Hosting offers a wide array of hosting solutions to match your requirements and budget. You can get started with their Shared web hosting options, or choose something more powerful with VPS hosting, Cloud Hosting, and Dedicated Servers. Reseller hosting is also available if you are interested.
If you only want to focus on running your business, then you can also get any one of their managed hosting plans where all the technical aspects will be handled for you. They also provide seamless integration with all popular CMS platforms including WordPress 1-click installation.
Verdict: It's a tie, as both hosting providers offer access to powerful and diverse hosting options.
3. A2Hosting or BigRock – Hosting Features Offered
Features Offered by BigRock
All BigRock plans give you a free SSL certificate. Also, if you choose one of their unlimited plans, then you get access to full backup support along with powerful features like anti-malware integration, dedicated email server, and much more.
There are plenty of other tools and utilities which you can manage using cPanel (or Plesk panel). You can also register your domain at BigRock for ₹99 only. Read here to know more.
Features Offered by A2Hosting
A2Hosting provides all standard functionalities like SSL Certificates and cPanel access, all based on a powerful infrastructure powered using SSD for super-fast performance. Their Turbo Servers are known to provide almost 20X faster hosting experience compared to the market.
You also get access to many advanced features like free SSH, free account migration, dedicated support for all popular CMS and much more.
Verdict: A2Hosting wins this round with access to more powerful features and advanced infrastructure.
4. BigRock or A2Hosting Review - Security Features Offered
BigRock Security Features
Even with their basic plans, BigRock integrates all the necessary security features to ensure the privacy and integrity of your website. You will get access to firewall protection, a dedicated security scanner, apps that perform security audits on your website, a powerful network intrusion detector, anti-DDoS functionalities, and much more.
A2Hosting Security Features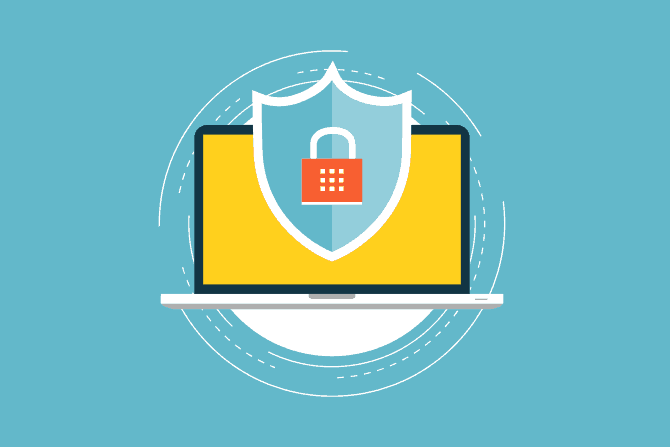 With A2Hosting, you get access to a wide range of SSL Certificate options. Apart from the free SSL Certificate, you get with each plan, you also get access to premium options like Wildcard SSL, Advanced SSL, and more. The company also provides free SSH for a secure network.
Another hosting provider that offers free SSL Certificate with hosting plans is HostGator. Read this BigRock vs HostGator India to know more.
Verdict: With the increased threat of cyber crime, BigRock wins this round as it comes with a dedicated security scanner and anti-DDoS to prevent Brute Force Attacks.
5. A2Hosting vs BigRock Review – Customer Support and Uptime
BigRock Customer Support & Uptime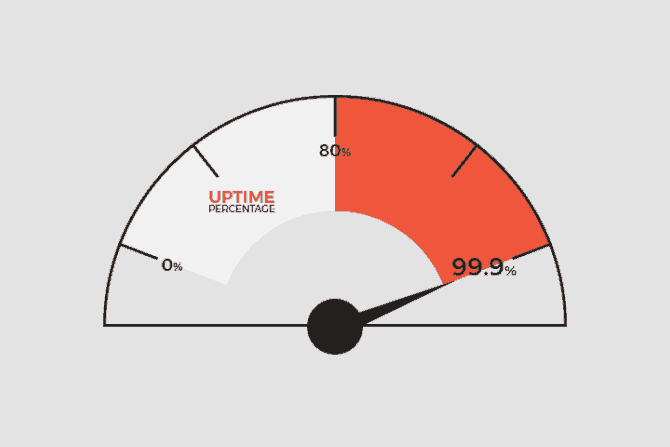 BigRock offers stable performance with 99.9% uptime. But if you face any issues, then you can contact their 24/7 support team. Issues are generally addressed and resolved very quickly either through email or phone call.
They also offer access to a dedicated knowledge base which covers many of the basic issues a user might face with their hosting solution.
A2Hosting Customer Support & Uptime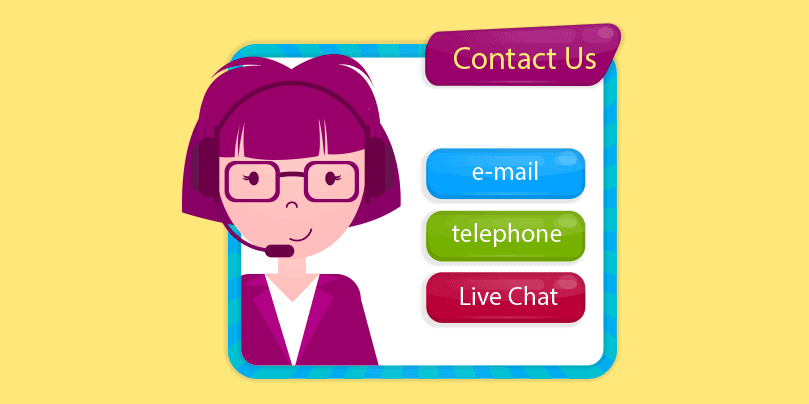 A2Hosting customer support is available 24/7 either via phone call, live chat, or email. If you have any trouble with your hosting, their "Guru Crew" support team will help resolve it ASAP. However, with a guaranteed 99.9% uptime, you can expect stable server performance.
Also, if you get one of their managed hosting solutions, then you can expect all technical aspects handled for you.
Verdict: A2Hosting wins with better customer support.
6. BigRock or A2Hostign Review - Payment Options
BigRock Payment Options
Once you have decided which hosting package you want for your website, you can make payments using your debit card, credit card, net banking, wire transfers, and even check deposits. Do remember to apply bigrock coupon code to get an additional discount on your purchase.
A2Hosting Payment Options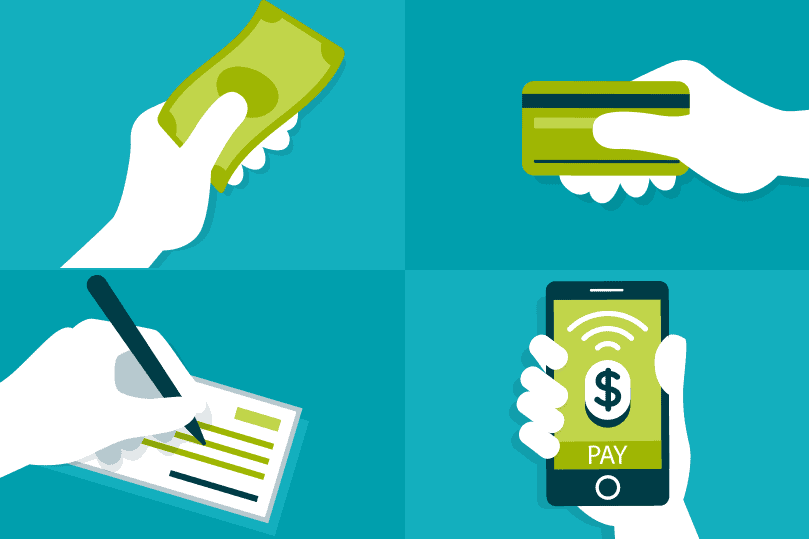 After selecting your hosting plan, you can make payments using PayPal, wire transfers, Skrill, 2CheckOut, cheque, and money orders. They also provide CCAvenue integration specifically for Indian customers.
Verdict: A2Hosting wins by providing flexibility to users with more payment options.
7. BigRock vs A2Hosting – Money-back Guarantee
BigRock Money-back Guarantee
Every BigRock customer is entitled to a 30-day money-back guarantee. Users can ask for a refund if they are not satisfied with their services.
A2Hosting Money-back Guarantee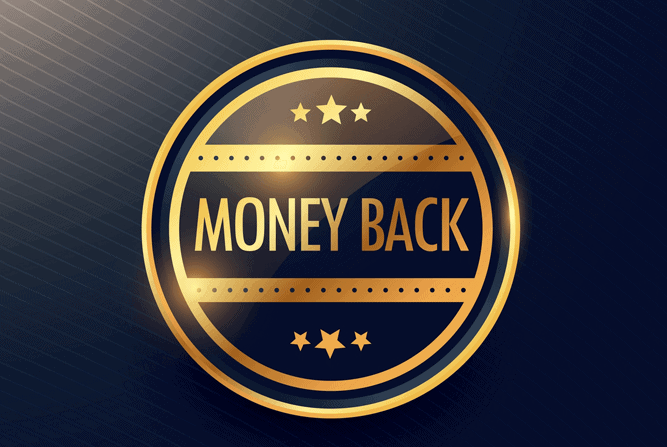 A2Hosting also provides a 30-day money-back guarantee. But in addition to that, they offer an "Anytime Money-Back Guarantee" which gives a pro-rated refund of any unused service after 30-days.
Verdict: A2Hosting is hands down the winner in this round.
So this was our comprehensive take on BigRock vs A2Hosting. Looking at all the features and functionalities that both hosting providers bring to the table, A2Hosting is clearly more powerful. You get access to more hosting options powered by better infrastructure and more feature availability.
However, A2Hosting is more expensive compared to BigRock, which is most evident when you renew your hosting services. As such, if you are working on a budget, then you can consider BigRock hosting. Especially if you are a small business that needs only the basic tools and utilities.
Liked this hosting comparison review? Here are a couple more you can read;