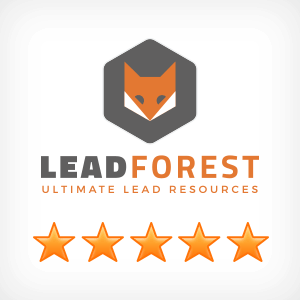 Looking for LeadForest Review? ok For those in need of innovative, premium quality, high-converting landing pages to start a website or a blog, here is LeadForest, a landing page design agency, that provides you with clean, cutting-edge and professional-looking landing page templates that will help you set up any kind of website easily.
LeadForest was launched by a group of dedicated designers and developers, whose aim was to make available perfectly coded HTML themes to all businesses at an affordable price tag.
LeadForest has a collection of 50+ visually appealing and lead generating landing page templates on their website. In addition, their landing page library is well-stocked and they make sure to update at least 5 new templates each month.
At present, they are offering landing page templates across 9 categories including, Travel & Tourism, Finance, Insurance, Home Services, Transportation, Hotels, Education, Web Design and Single Products.
To know more about this landing page design agency, let's have a look at some of their awesome products, their features, their pricing and the services that you would be receiving on the purchase of a template in this LeadForest Review.
1. Landing Page Template Features
The best thing about LeadForest landing pages is its effortless and inspiring design that helps you to brilliantly showcase your product and services in an attractive manner.
The developers have put in an extra effort to ensure that the landing pages are lightweight and fast-loading, which, in turn, would ensure that your website is blazing fast even when there is a high traffic on your site.
Moreover, these templates are well-structured, highly intuitive and flexible and are designed to simplify the installation process, thus enabling you to set up your site faster and in an hassle-free manner.
Some of the features that each of these landing pages sports are:
Responsive Design: For optimal user experience, all themes are designed to be responsive i.e. they work smooth across all mobile devices, be it a smartphone, a tablet or a laptop.
Cross-browser Compatible: Likewise, these templates are also cross-browser compatible. Meaning, they will work effortlessly across all major browsers - Mozilla Firefox, Safari, Opera, Google Chrome, Internet Explorer, etc.
Pixel Perfect and Retina Ready: To provide your audience with sharper and clearer visuals, the developers have ensured that all their landing pages are pixel perfect and retina ready.
SEO-friendly: These landing pages are also SEO-ready, which will ensure that your site is easily accessible to all users as well as search engines, resulting in increased website traffic and a higher search engine ranking, leading to a better conversion rate.
W3C Markup Validated: The developers have used clean codes while designing these landing pages and have adhered to the code compliant guidelines set by the World Wide Web Consortium (W3C).
One-Click Installation and Translation Ready: As mentioned before, for a hassle-free use, all these templates come with 1-click installation option. Also, these templates are translation ready, which means that you can use them to build a website in any language.
2. Examples of Different Landing Pages
While the above-mentioned features are common to all landing pages, LeadForest has ensured that the template for each industry comprises of essential tools, features and has the right functionality that is needed to run a successful website.
The below-mentioned examples will give you a glimpse of some of the templates that you can purchase from LeadForest.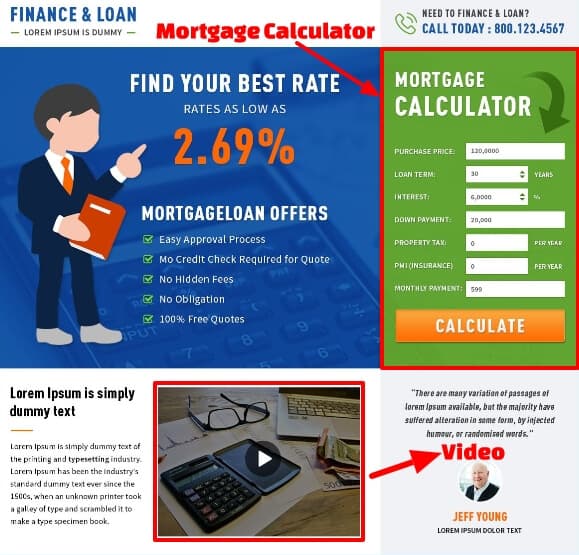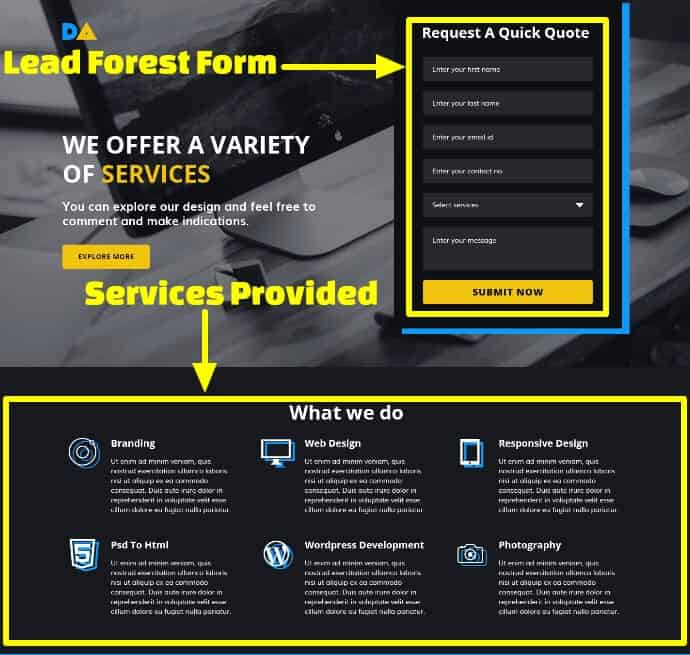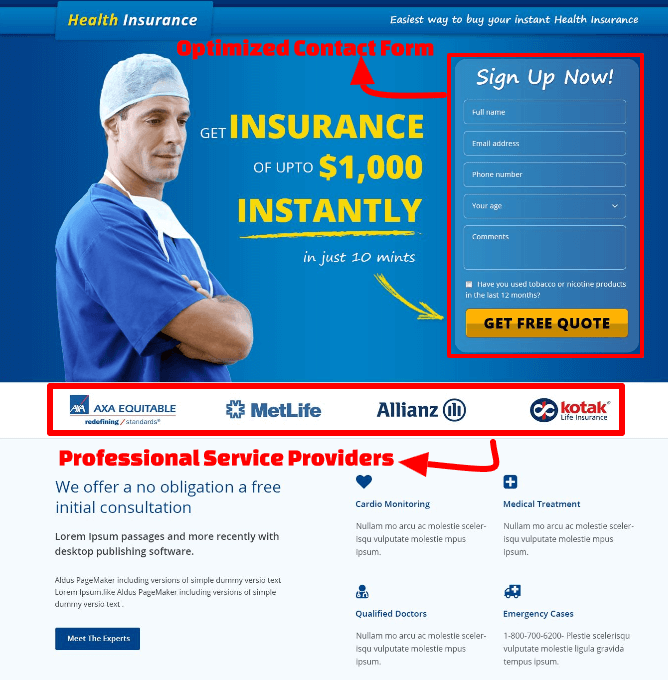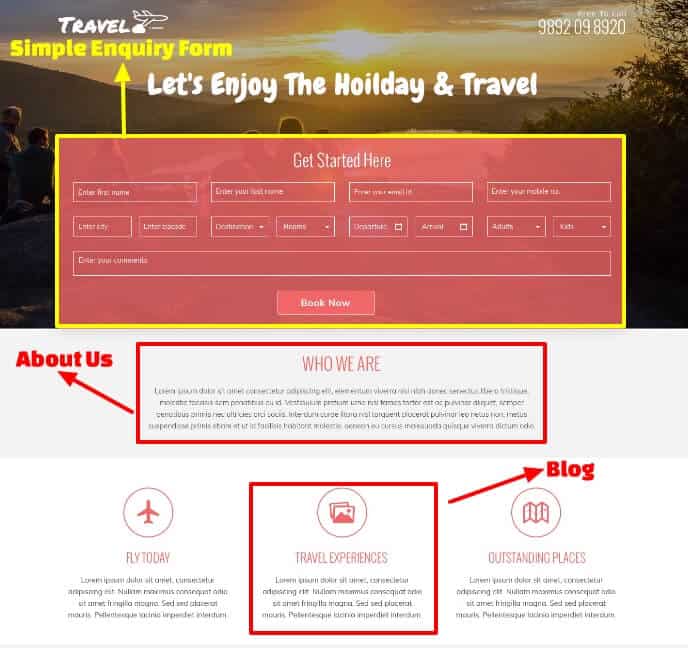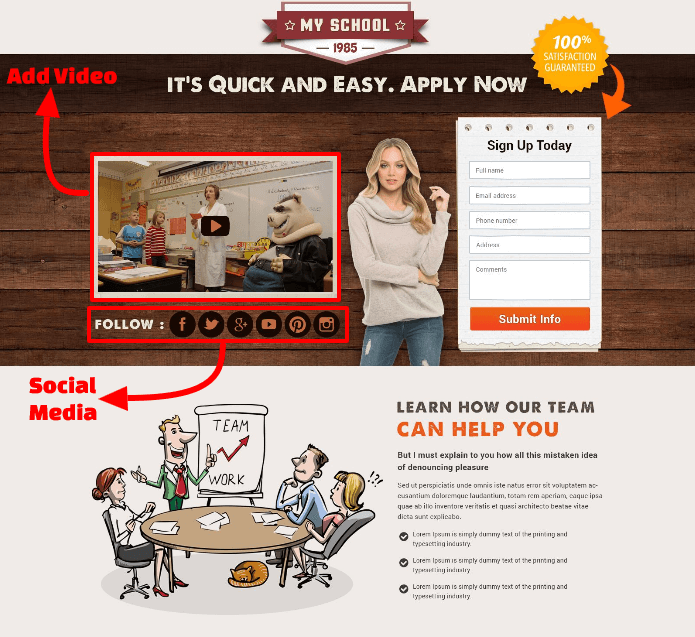 3. LeadForest Landing Page Pricing Structure
Since they have just launched their website, LeadForest is offering an introductory price on all their landing page designs.
To purchase a Single Landing Page you need to shell out $14. With this plan, you get access to the HTML and PSD files as well as unlimited commercial usage and documentation. Also, you can use this single template to build multiple websites.
With the Yearly Membership Plan, you get all the features that are offered with the first plan. Plus, you get a 1-year unlimited download option and access to all landing pages & new products.
The Lifetime Membership Plan is the most lucrative plan, as you get all the features provided with the previous 2 plans, in tandem with lifetime free access and usage of all landing page themes on LeadForest.
To know more about their pricing structure, check out the image below. Also, go here to check out the average cost for a website.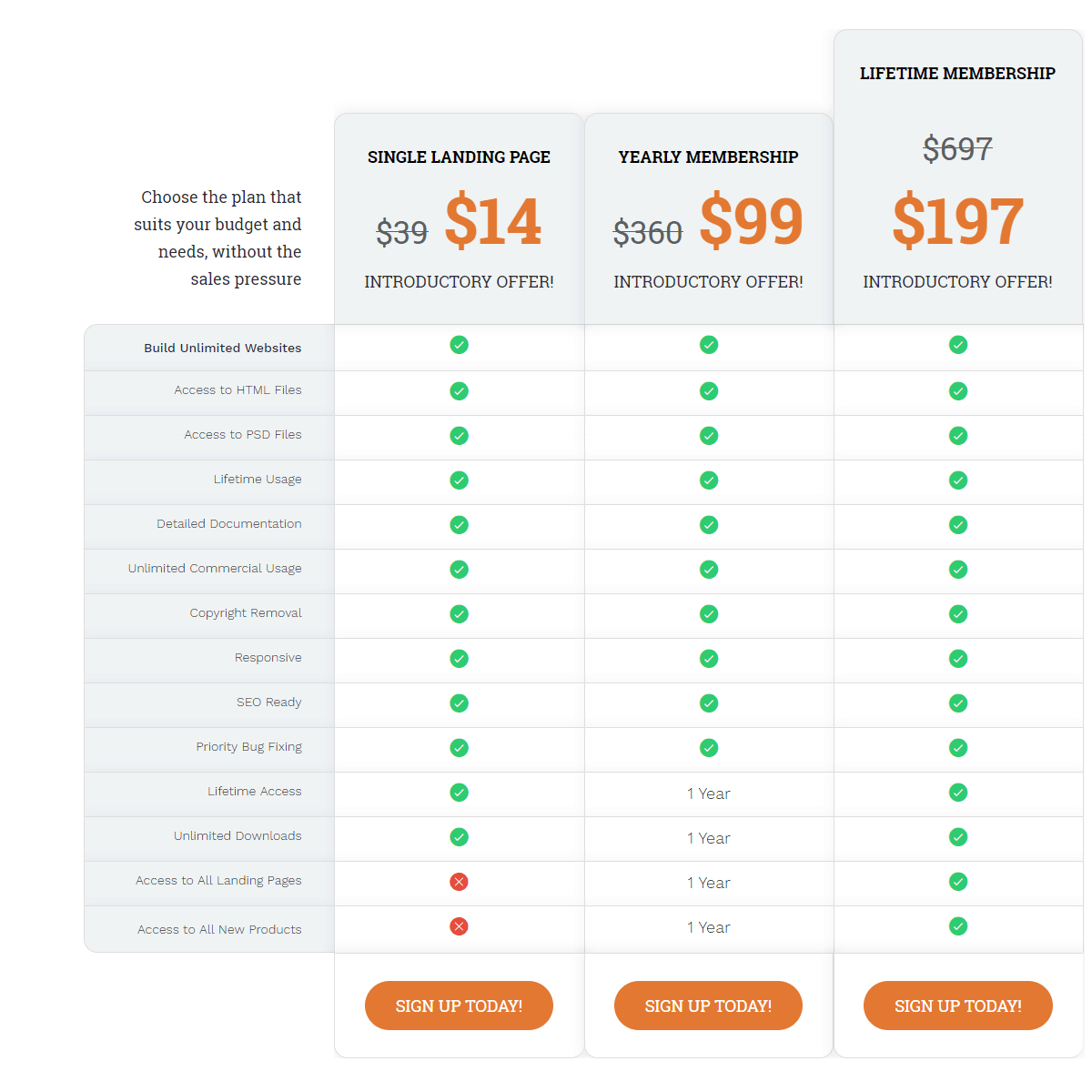 4. Free Template Download
Yes, you read that right!
LeadForest is offering a wide variety of FREE Templates across various categories. All you need to do, to get access to this, is 'Sign Up' using one of the Social Logins and LeadForest will email you a FREE download link to that template.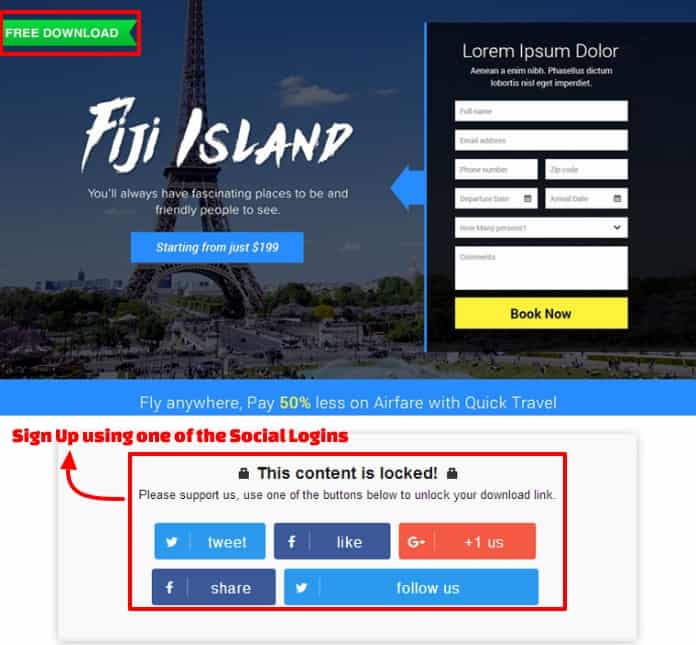 However, to access all premium landing page themes, you need to sign up for a Yearly or a Lifetime Membership.

5. Additional Features and Services
Here are some additional features and services LeadForest offers you on the purchase of one or more of their incredible landing page templates.
Detailed Documentation: Once you have purchased a template, if you come across any problem with regards to customization or installation, then fret not, as LeadForest provides you with detailed documentation guide that will help you fix these problems effectively.
Unlimited Usage: LeadForest offers you unlimited usage facility i.e. you can use a single template on multiple domains.
Dedicated Support: They provide dedicated support via email, chat, and phone. Any issue you face with their products or services is resolved in a relatively short time.
LeadForest offers you professionally designed landing page templates that are versatile and highly customizable. Even being a novice in this arena, they have a wide collection of 50+ beautiful and functional themes, which you can purchase at a cost-effective price.
The amazing features that they provide with all their landing pages are top-notch and they're after sales service is also excellent. Furthermore, you get access to FREE templates (WOW!) on Sign Up! Thus, if you want to buy a landing page for your website, then LeadForest is the new go-to-place that you should try out!
As always, if you want to purchase hosting for your business then here the latest Bigrock Coupon that'll help save you money. Additionally, to know more about its features and hosting plans read this comprehensive Bigrock review!