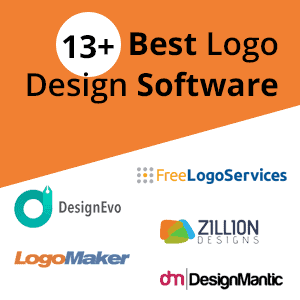 A company logo is the first impression you make on your potential clients. A company logo should be creative and out-of-the-box. In fact, not having a distinctive logo is one of the blogging mistakes and thus, it is important to have a logo if you want to create a niche for your brand in this cut-throat competitive business world.
You can get your company logo done through a professional logo design company or use free logo maker online. Nowadays, there are many best logo design software offering free logo designs without added costs. You can also opt for the best logo maker app for designing your company logo.
While designing a logo you should follow the basic principle; 'Make it different to make a difference'. Company logo also features in different services you offer so it has to be good.
Why Should You Design a Logo For Your Company?
The logo is a graphic mark that is used by business organizations. A company logo is like your brand's visual identity. It informs your potential customers about your product and brand. If you integrate your brand name into the logo design, then it can also help boosts brand exposure.
A company logo should be classy, descriptive and should have a recall value. At the same time, it should be uncomplicated. Outsourcing logo can be a costly affair and you may have to shell out a lot. The best way out, as mentioned above, is to use the best logo design software that provides you with free logo with no added costs.
If you are making a website or building a new business from scratch, then the best free logo maker online is a great choice. These free logo design websites can give you an idea for a perfect logo design.
Best Logo Maker Software Online
1. Free Logo Design – Create Your Own Logo, It's Free!

This is the best software for logo design and allows you to create a logo in no time. Just enter your company name and choose from different categories that are available on the site. This free logo design maker is user-friendly and the interface is clean. It is a well-recognized software for your business.
This free software lets you view & choose logo designs and customize it according to your need. It lets you customize according to colour, font and shape. The Free Logo Design site also gives you an option to download HD version of your logo.
However, there is a nominal charge of $59 if you opt for the HD version of your logo design.
3. Logomakr – Create & design your logo for free

Logomakr has best logo designs online. Its interface is easy and you can simply create your company logo through drag and drop feature.
You can save the logo design or download it from the site. Low-resolution files can be downloaded with a site creator feature. But, for higher resolution, you need to pay a nominal fee. It starts at $19 depending on your logo design. This software for logo design also designs cards and personalized tees.
5. Logo Maker – Make a Free Logo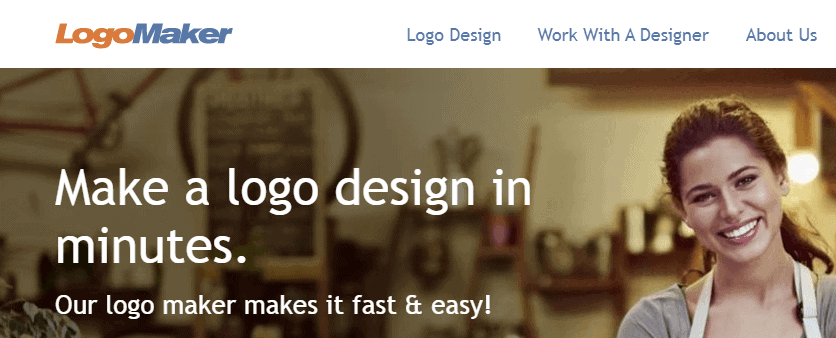 Logo Maker is the oldest and the best software to design logos. More than 3 million entrepreneurs have used the site for business logos. The site features more than 10,000 icons that you can choose from. Once you generate your company logo, you can download it.
For HD quality, you need to pay a fee for downloading. The Logo Maker site lets you generate cost-free HTML code that you can use for designing purpose. You can add the HTML code to your business website as a logo. You can also download the logo image file from the website for a nominal charge.
7. GraphicSprings – Create Your Own Logo | Free Logo Designer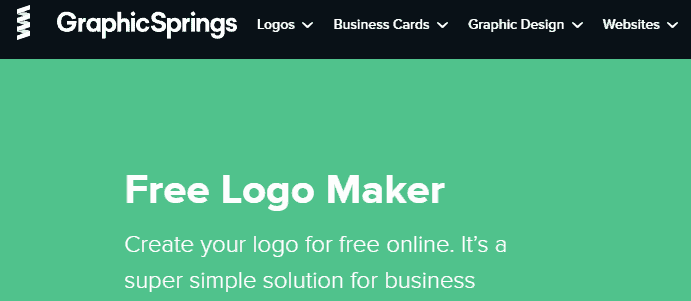 If you are looking for a creative logo for your company, then GraphicSprings is the best site. This software offers creative templates to choose from different categories.
The site lets you design with symbols and shapes and that makes a difference. You can make your logo look creative and decorative with these designs. You can create a free logo with this software. But, there is a fee for downloading the final HD logo you make.
The fee starts from $19 and you can save your logo in PNG and JPG format. This free logo maker online site also allows unlimited edits so you can make different designs. It also lets you save your logo design if you wish to modify it in future.
9. Squarespace – Create beautiful & professional logo in seconds

For best logo design online, you can trust Squarespace. It's different and it's creative as compared to other free logo maker sites. There are many designs to choose from and you can get your own customized option in logo making. You can make your logo using drag and drop functionality and create your design.
The site has a polished interface that lets you work on your logo in no time. You can create a professional looking company logo with this site. You can also upgrade to site's premium version for better options.
11. DesignMantic – Create Your Own Logo Design Using a Logo Maker

DesignMantic is another best logo making software that offers different templates.
You can make a logo for free with the site's software but to download HD quality vector file, you need to pay a nominal fee.
The site does not support unlimited download option, so you can download the logo you make only once. It's a good site if you are looking for some inspired logo designs with different concepts.
13. Logaster – Free Logo Maker and Generator

Logaster online logo maker helps you to generate automatic logos and images for your company. It lets you make multiple variations of your logo design. The best part is that the site lets you save your logos to view it or modify it later as well.
The interface of the site is quick. It lets you customize & download small size logo that you can use for your website for free. But, for a full-size HD logo, you need to pay a nominal fee.
15. DesignEvo – Free Logo Maker, Create Custom Logo Designs Online

DesignEvo features about 6,000 different design templates. It lets you generate your logo in minutes. It has a very clean interface that offers different professionally designed icons with great templates. At DesignEvo, you can also choose from stylish fonts and shapes.
Add your own touch to customize your business logo for a unique look. You can download HD quality PDF and SVG files from this online logo maker site. The logo you generate can be scaled to any size so it can be used in other business services as well.