Hi All, here is an in-depth guide, for those, who want to start a website. However, for those who already have a website, here is a complete eBook marketing guide that'll help garner more leads and revenue. Check it out now!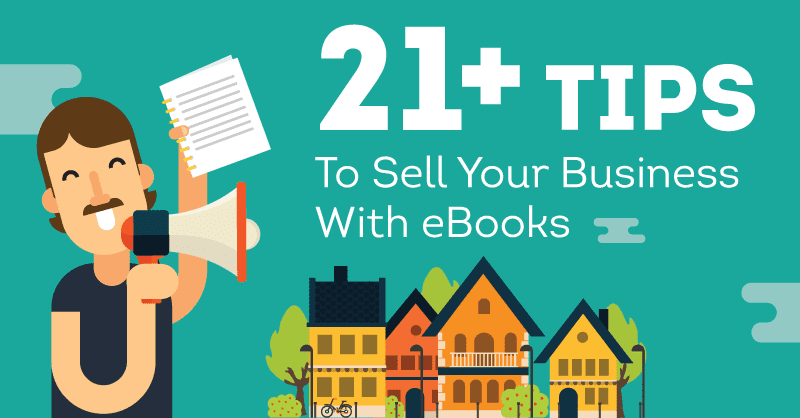 Good content has become the brute force that drives a majority of the marketing strategies on the internet today. Whether it is explainer videos, blog posts, or infographics, every form of online marketing requires high-quality content that attracts more clicks and revenue.
One such form which has gradually emerged out as a valuable promotional strategy is eBook marketing.
A little longer than your average blog post, and more text-based than an infographic, an eBook is something which can give a detailed insight into your brand's expertise and understanding of your business field. Not only does it help in lead generation, but also helps in establishing your brand as a leader and expert within your target market.
Now, you may have created the perfect eBook for your business, with the right topic, design and everything else, but if you don't promote it wisely, it will all be for nothing. So the question is, how do you figure out the right way of marketing your precious eBook?
The answer is, there is no single method of doing so.
You will need to ensure you follow a number of different marketing strategies to gain maximum benefits from your eBook. So without further ado, let's dive into some of the best, tried-and-tested marketing techniques for an eBook. Here goes!
Bonus: Download Free 21+ Tips To Sell Your Business With eBooks PDF and keep it handy when you plan the marketing strategy for your website next time.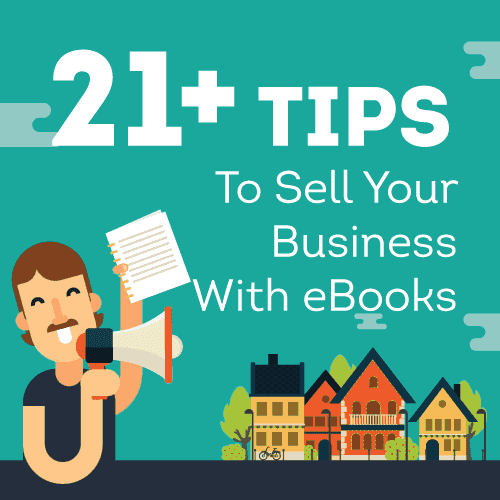 Free Download: 21+ Tips To Sell Your Business With eBooks

#1. Research Your Target Audience
Before you begin your marketing campaign, make sure you research your target audience. In fact, try and learn more about your audience even before you create your eBook.
Ask questions like
Which website or forum does your audience hang out on?
What are the kind of topics they like reading about?
What are their most common queries?
This will help you in planning a marketing strategy that is specific to your target audience.
#2. Research & Focus on Keywords
Along with your target audience, another area which will need special attention is keywords.
Whether it is within your content, or in any text accompanying or introducing your eBook, you will need to add certain relevant keywords to it, so that it gets noticed by the right people.
Spend some time on researching about keywords related to your topic, and then include them smartly in your eBook, so that it ranks well on search engines.
#3. Devise a Proper Plan
After your eBook is ready, and before you begin promoting it vigorously through various channels, it's important that you make a plan.
Which social channels do you think will bring you maximum traffic?
Have you compiled a relevant list of subscribers to whom you will promote your eBook?
Do you have enough information about the audience you are planning to target?
These are just some of the questions which you need to address while making a full-proof marketing plan for your eBook.
#4. Create Anticipation
While you are working on your eBook, make it a point to share little tidbits from the process, so that your audience gets relatively hyped for your finished product.
By building a positive anticipation, you will get your audience inclined towards buying your eBook, even before it is completed and available for download. To give you a fair idea of what all you could share with your followers or audience to create an anticipation for your eBook, here are a few examples;
Selected pictures from your work
Stories of the inspiration behind your eBook
Early drafts of some of the chapters
Other articles or eBooks which can be read along with your eBook
#5. Include Quotes & Insights of Your Industry Experts
One of the best ways of pitching your eBook to prestigious members of your community is by including their quotes and insights on related subjects into your eBook and then notifying them about your inspiration.
This way you will not only have reliable content, but will also be able to grab the experts' attention and get them to check out your eBook. So that's a win-win for both the parties!
#6. Tease With a Sample Chapter
This is a great way of showing what kind of treasure your eBook contains!
Release a sample chapter before publishing your eBook, so that people get an idea of what to expect from it. However, it is very important that this chapter contains some very helpful and interesting content to entice enough readers to come back for the complete product.
If you can generate enough interest and buzz through a single chapter, then you can sit back and expect a good response from your finished eBook.
#7. Create a Dedicated Landing Page for your eBook
Creating a landing page is a great platform for convincing your audience that your eBook has something worthwhile to offer them, while making it easier for them to get it.
With the help of a dedicated landing page, you can not only promote your eBook to a wide audience, but also provide them with a single, strong call-to-action which can help in improving the sales.
In other words, a well-optimized landing page can be smartly used for providing information about your eBook and converting visitors into leads.
#8. Include a Strong Call-To-Action
Your call-to-action button is probably the most important part of your ebook. If done rightly, a call-to-action button can actually compel visitors to click and get your eBook, without second thoughts.
But what are the key elements that make a great call-to-action button? Here are a few insights into creating strong call-to-action buttons that click!
They should be placed above the fold
They should carry a sense of urgency
They should be visually bold and attractive
The text should be large and legible
They should stand out from the rest of the content
#9. Include Keywords in Website Page URL That Promotes eBook
One of the most common mistakes that people make while writing the URL for their eBook page, is to keep it same as the title of the eBook.
Remember;
When people search for things on the internet, they look through keywords and not specific names. That's why, if your page URL is made of relevant keywords, there are more chances of your eBook ranking well on search engines, and being found by the right people.
#10. Make a Video Introducing your eBook and put it on YouTube
YouTube has emerged out to be one of the most widely popular social media channels exclusively for videos.
Even though it is not exactly meant for promoting something like an eBook, you can still use YouTube to market and create a buzz around your eBook. Just create an explainer video depicting what is covered in your eBook and then release it on your YouTube channel, to get more and more people interested in your work.
#11. Offer Free Advanced Copies To Select Few in Exchange For a Review
Reviews lend a great deal of credibility to your work.
And the good news is, you can get some positive reviews on your eBook, from reliable sources prior to starting its full-fledged marketing.
The idea is to offer your eBook for free to a certain select number of people (those who are first to download it), and ask them for a review, which can then be used while promoting it.
Visitors are more likely to buy your eBook if they read positive reviews about it from credible sources.
#12. Offer a Free Download For Every New Sign Up
This strategy really works well if you are new to the business, and want to grow your subscribers' list.
Offering a free download for every new sign up will help you collect a good number of email addresses to add to your subscribers' list. Then, the next time you publish any work in the form of a blog or eBook, you will already have a sufficient number of email ids to promote it to.
#13. Give it Away For Free for an Initial Period
For your eBook to gain some steam, you will need to lure in potential subscribers by hook or crook.
Although it sounds very risky, it is advisable to give away your eBook for free for some initial period of time. Once you start getting more subscribers and downloads, you can then start selling it as planned.
This will help you create a positive initial buzz around your eBook, which will help you in marketing it, in the long run.
#14. Create & Give Away a Short Report/Summary of your eBook
Create a short summary or report of your eBook and release it as a sort of 'trailer.' Then at the end of the summary, give your readers the option to know more about the topic by downloading the eBook.
Just remember;
Your teaser report should be very well written and extremely interesting, so as to charm your readers into actually buying your eBook. Another advantage of releasing such a summary is that you can also use it to collect email addresses of interested parties and then utilize them while promoting your work in the future.
#15. Run a Contest to Give It Away to the Winners
One of the best ways of engaging your audience is running contests and quizzes as part of the promotional campaign of your eBook, as they have the potential to work wonders for its sales.
As a prize, you can offer your eBook free to the first 5 or so winners.
This can help increase your engagement quotient with your readers, wherein both of you benefit from each other. Contests are more fun and interactive as compared to straightforward promotional posts, hence they are often more successful in getting a large number of readers to sign up or participate.
#16. Organize a Webinar and Give Away Your eBook to Those Who Attend
For starters, a webinar is nothing but a seminar conducted online, over the internet.
Although it is not a traditional method of promoting an eBook, you can still conduct a webinar covering the topic of your eBook to see how many people are actually interested in reading and gaining more insight into that particular topic.
As a token of appreciation to all those who attend, you can give away your eBook for free, for them to review. If they genuinely like your work, the people who attend your webinar will surely do a good word-of-mouth publicity of your eBook, which will help boost your marketing campaign significantly.
#17. Offer To Write Guest Posts on Related Sites/Blogs
As a link building technique, Guest blogging is an extensively-used technique to get backlinks from authority websites. The same concept can be used to bring the spotlight on your eBook.
Contact influential bloggers from your niche and give out your eBook to them. If they like it, ask them to promote it on their website/blog with an accompanying guest post which you can provide.
This is a great way of sharing your content with an industry expert to other people belonging to the same niche.
#18. Create Tutorials and Offer eBook for Reference
If your eBook deals with a particularly complicated or technical subject, then it would be a good idea to create a tutorial around it.
There may be many people who might be interested, and yet uninitiated with your topic. Releasing a tutorial would be a great means of getting your readers acquainted with your subject.
Then, if they need any more references, you can suggest them your eBook to learn more details. This way you will not only establish yourself as an expert, but will also be able to promote your eBook successfully to those who are genuinely interested in what you have to sell.
#19. Offer a Complimentary Short Course Through a Series of Emails
This is a very effective lead-generating strategy which involves creating a short course on a related topic, and offering it to your subscribers if and when they download or buy your eBook.
By offering such a course, you will not only be able to promote your eBook, but will also be able to provide some valuable guidance to your readers and subscribers.
You can decide to send a series of emails, one every other day or week, for several days, and ask them to share or review the eBook after the end of the course to other interested members.
#20. Promote it on Your Personal Blog, Business Website, Social Media & Email Newsletter
If you want your eBook to do tremendously well, you need to leave no stone unturned in promoting it online. Use every possible platform to promote your eBook.
Apart from every social media page of your business on Facebook, Twitter, Google+, Pinterest, LinkedIn, Instagram, etc, promote and talk about your eBook even on your personal blog (if you have any).
Write an introductory blog explaining the contents of the eBook in a concise manner, and publish it as an accompanying text with your eBook, for promotion on your business website.
Finally, send out enticing email newsletters to your subscribers and tell them all about how your eBook can benefit them, subtly compelling them to download and buy it.
#21. Give Special Discounts to the First 5-10 Buyers
The first 5-10 buyers are always important as they can prove to be elemental in promoting and reviewing your eBook on other platforms.
Hence, it is always a good idea to give the first 5-10 buyers some discount, so that they may respond to your generosity with a positive review, or share your eBook on their website/blog or social media.
#22. Create an Urgency by Selling it for a Low Price Initially & then Increasing the Price Gradually
Alternatively, if you do not wish to sell your eBook for free, you can start out by giving it away at a low price in the initial period. This will create a sense of urgency, prompting interested individuals to get their hands on your eBook as fast as they can.
For example, you can start by setting the initial price as $2.99, then gradually increase it to $4.99 after a while, and then $6.99 later. Once you have sold a sufficient number of copies, you can gradually increase the price, as by now your eBook may have generated enough curiosity to attract more number of subscribers, regardless of the price.
#23. Convince Your Affiliates to Sell Your eBook or Use Sites Like Jvzoo.com
Impressing your affiliates with your eBook can go a long way in helping you market it better. If you can convince them about the value and ingenuity of your eBook, and get them to promote it through their networking channels, there will be nothing like it!
This way, both you and your affiliate will be able to make money, and your audience will get a valuable resource nonetheless.
Alternatively, you can also make use of sites like Jvzoo , which is a marketplace for becoming an affiliate and promoting or selling your products to a relevant audience.
#24. Set Daily and Weekly Promotional Reminders About Your eBook on Your Social Media Profiles
Social media offers tons of opportunities for regular promotion of your work.
One such way of using social media to your advantage is setting regular promotional reminders about your eBook. Depending on your preference and requirements, you can easily set daily or weekly reminders promoting your eBook to your followers.
This will ensure that your eBook is consistently visible to your target audience, so that they are constantly reminded to check it out. Sooner or later, they may give it a try and buy it.
#25. Send Reminder Emails to Your Subscribers
Not all your subscribers may respond to your newsletter announcing the launch of your eBook, in the very first go.
Which is why, it is important that you send a reminder email after a few days to all those who missed your previous email, just to prompt them to check out your eBook.
If they have missed it for some reason, and are genuinely interested in what your eBook has to offer, this email will prove very fruitful.
#Conclusion:
Creating an attractive eBook is one thing, and marketing it to get maximum returns from it, is another. But if you follow all or some of the methods suggested above, you will be able to get good returns in exchange for all the hard work you put into creating and publishing your eBook.
Have you tried any marketing method which gave you brilliant results? Do you think we have missed out on any marketing strategy? Feel free to give us your suggestions in the comments section below.
As always, if you are in need of a hosting for your website, then read this Bigrock review to know why Bigrock is a reliable web host. You may also check some of the comparisions below,
In addition, here are some Bigrock Coupons that'll help you save money on your purchase.