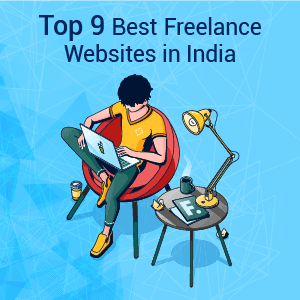 One of the best parts about being a freelancer is the opportunity to explore, which may not be possible with a full-time position. Furthermore, you can work with both global and local clients. You must have already heard about Freelancers and Fiverr. These two are well-known and competitive freelancing websites.
Each freelancing websites has a different onboarding process. We have provided a short description of how to sign up and apply to become a freelancer with these Indian freelancing websites. Of course, a lot of these companies are head-quartered outside India, but these websites work seamlessly for Indian freelancers.
We call them Indian freelancing websites because they have a strong presence and pool of budding Indian freelancers already working with them. Some websites like Freelancers.in also have an Indian domain name extension, which is better suited for you. We also recommend that you read the review about each platform before deciding. It will help you understand what other freelancers like yourself have faced.
Want to start your own online business? Make use of these BigRock Coupons to buy domain and web hosting.
What are some of the best freelance websites in India?
Fiverr, Freelancer.com, Upwork, 99Designs, Envato Studio, TopTal.com, WorknHire, Guru.com and PeoplePerHour are some of the best freelance websites in India. Apart from these, there are several other freelancing sites in India that offer abundant new opportunities to freshers and entry-level freelancers. To learn more about them and how to get started, read this in-depth blog.
1. Start Selling Your Services on Fiverr

According to Fiverr Statistics, a GIG – service you sell on Fiverr – is brought every 4 seconds.

For example, a video editor specialising in travel vlogs will create gigs similar to what's displayed in the below screenshot of the top-rated Fiverr video editors.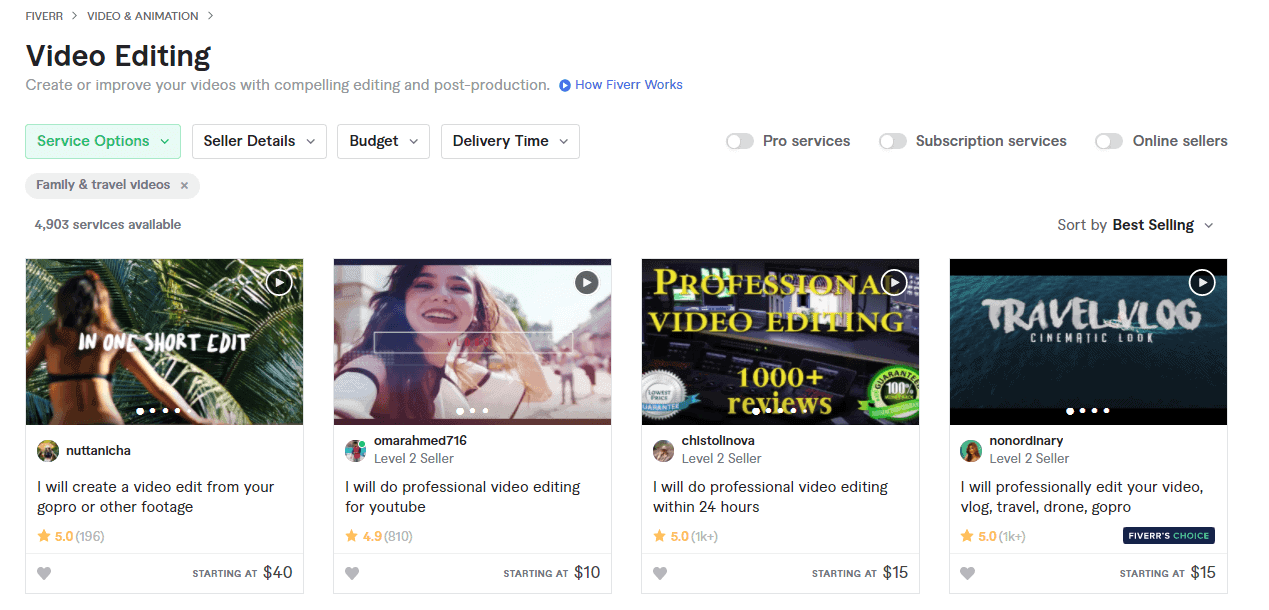 How to get started on Fiverr?
Fiverr will guide you through the registration process. Once you have created your account, fill every necessary field to create a professional profile.
Refer to the Service Directory provided by Fiverr to find the service or category you wish to sell.
Start Freelancing with Fiverr now
3. Gets Jobs on Upwork with an Effective Proposal

How to get started on Upwork?
As Upwork is a competitive freelancing platform, not all applicants get approved. You might have to upscale your skills and try again.
5. Registration of Interest form for Envato Studio

How to become a service provider on Envato?
Envato is a big name in the design and development circles. The application process for it is much different from others. To become an Envato service provider, fill out and submit the registration of Interest forms. The vetting process for the same is quite tough.

Who can become an Envato Service Provider?
The following images tell us that freelancers specialising in services, such as SEO, content writing, and accounting, can fill out the registration of interest form.

7. Get Hired for Jobs on Guru.com

How to get started with Guru?
In that aspect, Guru is similar to Freelancer.in platform. Guru also offers payment terms templates for you to select. It helps you create a proper quote and send it to the job poster.
Employers who find your quote compelling will reach out to you, and then together, you can finalise the agreement before you start working on the job. Refer to Guru's How It Works guide for more information about managing your account and payments.
Who can get hired on Guru.com?
Guru offers jobs across several fields such as programming, design, writing, engineering, sales, and administration. Refer to the job board, where you can explore the categories and find one that best suits the services you offer.
9. Get Recruited by PeoplePerHour

How to apply for a freelance position with people per hour?
The first step to becoming a PeoplePerHour certified freelancer is to apply to become a freelancer.
PeoplePerHour is equipped with an AI system that matches a freelancer to appropriate projects. You can find a project that matches your abilities and skill. The next step is to submit a proposal to get the opportunity to work on the project.
PeoplePerHour allows freelancers to send 15 free proposals every month. Freelancers have to purchase additional credits for more projects.
Who can work with PeoplePerHour?
Refer to the PeoplePerHour's freelance service categories to explore the skills and choose the one that fits your expertise.